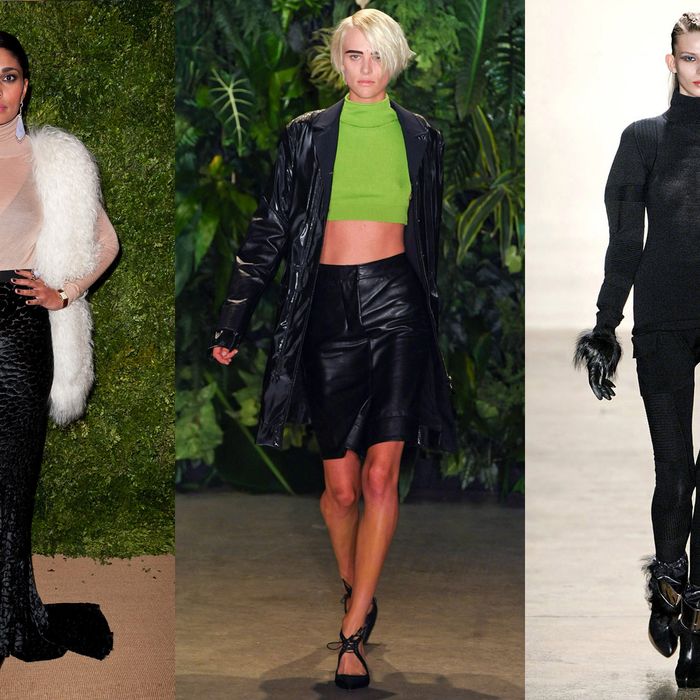 Rachel Roy in a Celine top; a spring runway look by Altuzarra; and a fall runway look by Ohne Titel.
Photo: D Dipasupil/Getty Images, Imaxtree(2)
Remember that scene in Something's Gotta Give where Diane Keaton asks Jack Nicholson to cut off her turtleneck so he can (to her delight) have his way with her? Well you'll be glad to know this neckline is no longer a symbol of repressed female sexuality or dorkiness (hi, Steve Jobs), the Times affirms. Despite not having a sexy reputation, turtlenecks are trendy in this ladylike age of style. Rachel Roy, who wore two smashing turtlenecks to events around town recently, one by Givenchy and one by Celine, explains why they're great:
"I find that the turtleneck has one of the chicest silhouettes," Ms. Roy said later by phone. "I don't always have to show a lot of skin, but what I do want to show all the time is a lot of brains. And the turtleneck is strong, elegant, smart. I'm a turtleneck believer."
You may have noticed turtles — quite literally, according to our image here (WINK, WINK) —  in various iterations on the fall and spring runways, by designers as varied as Michael Kors, Joseph Altuzarra, and Celine, all of whom have made the neck-funnels chic, if not downright seductive. Actually, it's not that hard to make a turtleneck look hot: just craft it from skintight fabric or cut off the bottom so that —  never mind logic, this is fashion! — it highlights your six-pack. This sure beats when lingerie as outerwear and shorts that were little more than non-disposable diapers were the reigning runway looks. Now it's probably about time for someone to tie this to the economy with a "neckline index" about how when necklines go up the economy goes down. They just don't do enough of those these days.