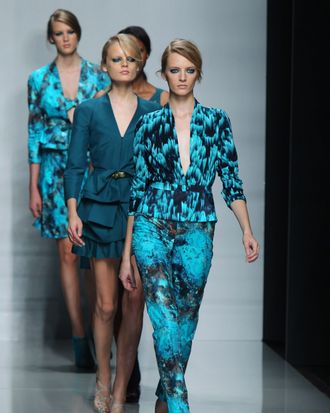 Looks from Ungaro's spring 2012 collection.
Photo: Antonio de Moraes Barros Filho/WireImage
Jeffry Aronsson took over as CEO at Emanuel Ungaro just six months ago to help the ailing French label clean up its act. Having previously served as CEO at leading American design houses, including Donna Karan, Marc Jacobs, and Oscar de la Renta, Aronsson seemed like he just might be able to turn things around, particularly since he brought along a number of well-respected advisers, like former Neiman Marcus head Burt Tansky. But then Giles Deacon quit the house in September, with just over a year as its designer, and now Aronsson is reportedly packing it in too.
According to WWD:
The company said, "Mr. Aronsson is still the acting ceo of Ungaro." But he has been in New York for several weeks and it is understood that he has returned for good to continue his work at Aronsson Group, his investment and consulting firm.
Meanwhile, the company continues to hemorrhage money: Its losses for 2010 totaled 6.3 million euros, or about $8.4 million.
Earlier: Giles Deacon Out at Ungaro
Related: Lindsay Lohan Out at Ungaro