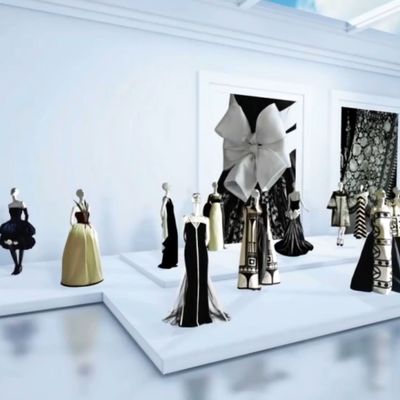 A room in Valentino's new virtual museum.
The Valentino Garavani Virtual Museum went live today, and while it's a bit tricky to navigate at first (unless you have a joystick on your computer and lots of video game experience, that is), the content itself is gorgeous. Designed to simulate walking through an actual museum, complete with shiny floors and sunny skylight windows, the site's "rooms" are organized by categories like decade or color theme to curate the viewer's experience. Depending on your priorities — a willingness to sacrifice loading speed for image sharpness, or vice versa — you can change the image quality (choices range from "fastest" to "beautiful"). Since the 300-plus garments are virtual, they'll be "exhibited" indefinitely, since they obviously don't have to be returned to anyone's closets.
Although zooming around virtual rooms from your desk chair is fun, the best part of the exhibit is undoubtedly its "library" feature: Whenever you click on a particular dress, a sidebar materializes that shows additional photos of the garment on the runway, in editorials, and/or worn on a red carpet. This feature is beyond question the one that other fashion houses should emulate if (or surely, when) they mount archival websites of their own. After all, sites like nymag.com have only been posting runway images for the past decade at the very longest; there remains a huge and completely unfulfilled demand for images of designers' runway collections and celebrity clients that predate the web. While it's a monumental — not to mention expensive — undertaking to organize archival images into a navigable website, what better way to convey a venerated fashion house's history and identity? It's surely less expensive than organizing an actual museum exhibit, and has the potential to reach a much wider audience owing to its lack of space and time constraints. (It's somewhat similar to what Vogue is currently working on — theirs will reportedly be an online archive of every article and editorial ever published in the magazine.) We hope it's only a short time before other labels follow in Valentino's footsteps.
Earlier: Valentino Garavani to Launch a Virtual Museum