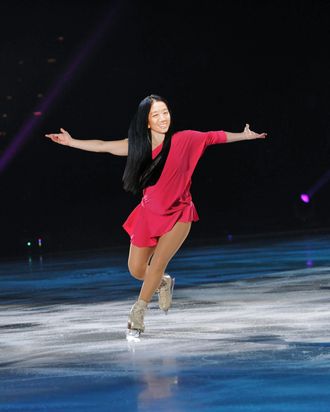 Vera Wang "ice skating." Nudge nudge!
Photo: Mary-Louise Price; Photos: Jesse D. Garrabrant/Getty Images (ice skater), Jemal Countess/Getty Images for Mercedes-Benz (Wang)
Who's endured the humiliation of ice skating this season? Trying not to fall on your ass in front of a bunch of alleged friends who forced you into going can't be as nerve-wracking as the skate date one brave writer for T had with … Vera Wang. Before she was a fashion designer, Wang competed for a spot on the Olympic team in 1968, but didn't make it. She left the "lonelieness of the sport" behind and turned to fashion, but can still skate like the wind. Writer Edward Barsamian, who hadn't skated since he was a kid with a single-digit age, tells of his lesson from Wang at The Standard's ice-skating rink, which is like the Opening Ceremony of ice-skating rinks, so you really don't want to look like a fool and fall on your ass.

Wang gracefully steps onto the ice, checks how frozen the rink is and considers how much water could accumulate with the outside temperature being as mild as it is. "The first thing you want to do is keep your knees over your blades," she instructs, "if you do this you'll be balanced and won't fall." Guiding me as we glide on the ice, my trepidation begins to melt and a sense of ease comes over me. "You listen well," Wang notes, "now let's try moving with the inner blade." The inner blade, which is tapped by leaning your foot inwards onto the arch of the foot, is thinner than an iPad, mind you.
So there are new ways to qualify skinniness — iThings!