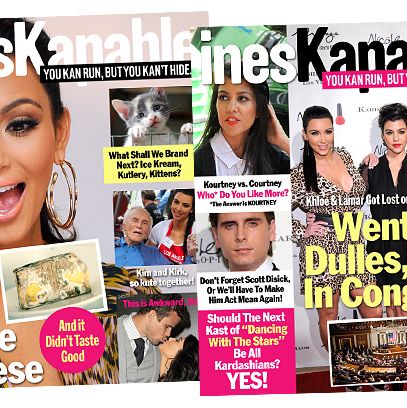 "inesKapable" indeed; illustration by Marisa Woocher.
This morning brought the terribly exciting (or, really, just plain terrible) news that the Kardashian clan would like to have their own magazine — fanzine, even — as their personal websites, Twitter pages, an exhausting tabloid presence, and beyond-numerous reality shows are somehow proving insufficient in their "kollective" quest to overshare. "Page Six" reports industry rumors that the glossy could be mere months away, and we're lucky to debut some exclusive shots of the magazine's first covers this very evening. 
True to form, the magazine is titled "InesKapable." As the family's most famous member, Kim warrants the newsstand cover solo, but sisters Kourtney and Khloe muscled their way onto the subscribers' version, because the family that poses together for their own tabloid sticks together. (And just in case you're koncerned, that dastardly cheese Kim didn't like is a Blue Stilton.)
Okay, these glorious mock-ups aren't actually real — repeat, they are 100 percent FAKE — but come on, they could be.