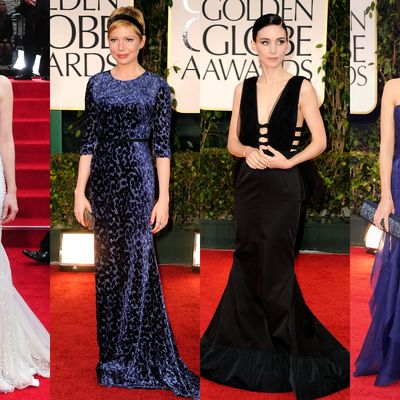 Jessica Chastain, Michelle Williams, Rooney Mara, and Bérénice Bejo.
Jessica Chastain, Rooney Mara, Michelle Williams, and Bérénice Bejo are thought to be the most sought-after actresses for labels dressing people for the Oscars. It's like the NFL draft of fashion, where only those in the best shape for playing the game of clothes-wearing will be snatched up by the best teams. Once team Valentino or team Givenchy signs an exclusive with an actress, that label is off the table for everyone else who doesn't want to go to the event naked. With more exclusives being signed these days, finding Oscars looks is getting harder for everyone, especially for actresses who aren't the prettiest, youngest, thinnest, and most of-the-moment.
WWD spoke to stylist Jessica Paster (clients include Emily Blunt and Dakota Fanning) about red-carpet dressing:
Evaluating the fashion in the award season thus far, Paster expressed disappointment at top designers' unwillingness to work with actresses who aren't the youngest and the thinnest in Hollywood. 

"I want to see some of the designers be more open-minded and not be so very vapid," she said.
George Kotsiopoulos, stylist to Frida Pinto and host of E!'s Fashion Police, doesn't expect anything outrageous on the carpet on February 26:
"If you want to sell yourself as a serious actress, it may not be the best idea to wear the craziest outfits to award shows," he said. "I get why people play it safe. There is so much at stake now. People are selling themselves as brands."
Which is why we have the Grammys on February 12. I encourage everyone to have raucous parties for both the Grammys and the Oscars, which involve staring at the TV for hours and hours straight, eating vegetarian chicken nuggets, and yelling "Ohhhh c'mon!" when someone wears a bad outfit, and clapping really loudly when someone makes a *fashion touchdown*. What qualifies as a "waste of time" is all relative.