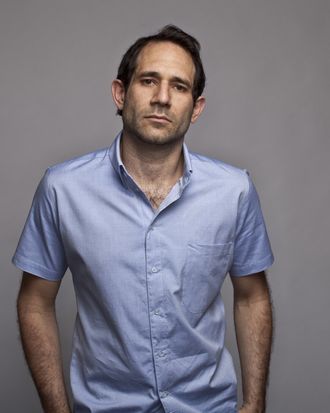 Dov Charney.
Photo: Johannes Kroemer/2009 Johannes Kroemer
Because American Apparel has been in such a royal, pervy mess for the past year, it's understandable that Dov Charney takes every possible opportunity to announce that their numbers are improving. And they are: December's sales increased a solid 15 percent over the same month last year, bringing in a total of $56.3 million. Their gains can be partially attributed to better overall organization and rising online sales, but also — a Groupon deal! This makes sense, really, considering compulsive Groupon users fall into roughly the same demographic as American Apparel's young, quasi-hipster target consumers. Anyway, according to WWD, the company sold about 100,000 Groupon deals the week before Black Friday, which have already been used to to purchase over 150,000 garments, giving December sales that extra oomph. Or, as Charney puts it, "We're getting our groove back a bit."
Although sales numbers have been improving steadily for months now, American Apparel still owes $47.6 million to a Bank of America credit facility that matures in July, as well as $114 million to Lion Capital. Charney is currently seeking refinancing options for the company's debt, which will take much more than some well-timed Groupon deals to pay off.