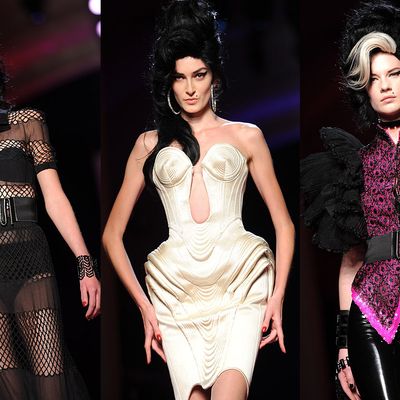 Looks from Jean Paul Gaultier's Winehouse-inspired couture show.
Photo: Pascal Le Segretain/Getty Images
Jean Paul Gaultier's spring 2012 haute couture collection was deemed a thoughtful tribute to the late Amy Winehouse — a portrayal of the singer at the apex of her career. Although Gaultier admitted that he'd never met Amy, he said their "styles were similar" and that he intended the tribute to be a "joyous" reflection of her iconic fashion sense. But the singer's father, Mitch Winehouse, said the show was terribly upsetting for him and his family.
He tells British newspaper the Sun:
The family were upset to see those pictures, they were a total shock. We're still grieving for her loss, and we've had a difficult week with the six month anniversary of Amy's death. To see her image lifted wholesale to sell clothes was a wrench we were not expecting or consulted on … We're proud of her influence on fashion but find black veils on models, smoking cigarettes with a barbershop quartet singing her music in bad taste. It portrays a view of Amy when she was not at her best and glamorises some of the more upsetting times in her life. That's upsetting for her family.
Although couture is hardly a very profitable enterprise, it's still a commercial one, and it's understandable that the family might be unsettled by Gaultier's incorporation of Winehouse's image. Mitch Winehouse maintains that Gaultier should make a donation to the Amy Winehouse Foundation, a fund he set up in her memory to help troubled youth.
See Jean Paul Gaultier's complete spring 2012 haute couture collection.