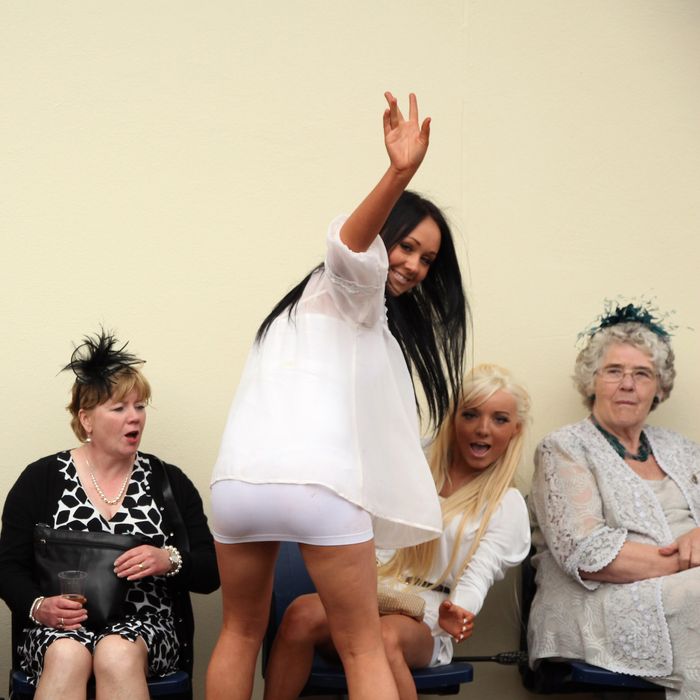 "Young racegoers revel with other older racegoers after the last race on Ladies Day at Royal Ascot."
Photo: Dan Kitwood/Getty Images
Ascot officials plan to reissue attire guidelines for attendees at this year's horse-racing festivals, because an increasing number seem to be forgetting that a day at the races is not the same as a (boozy) night out on the town. While dress codes were relaxed in previous years in attempt to make the event more accessible, they're now seen as far too generous, and loosely adhered to — in other words, most unlike the outfits many racegoers now wear.
Though photographing drunk girls "dressed up" for days at Ascot, Aintree, or Britain's other racecourses has been a staple of tabloid magazines for a few years now, sartorial matters are now said to have gotten out of hand. Many longtime racing fans, and likely many of the event's bigger spenders, have complained to Ascot's management.
New rules will ban sportswear, as well as jeans and shorts. Men will be expected to wear shirts (fully-buttoned!) and ties; women will need to adhere to "strict instructions" regarding their hemlines and dress straps. An Ascot spokesperson says the hope is that, for many, the guidelines will "bring back the sense that going to Ascot is special and unique," especially by the time the Royal family makes their annual visit this coming summer. Crucially however, these standards are said to not yet affect the "less formal" sections of the course's seating and space — so while those paying for a classic, high-end Ascot experience will be kept safe from bared, bronzed thighs and cleavage akimbo, there'll still be more than enough opportunity for folks to prance around half-naked spilling plastic glasses of cheap Champagne on each other and then fighting (for the cameras). And, most importantly, people will still get to wear big flamingo hats, too.