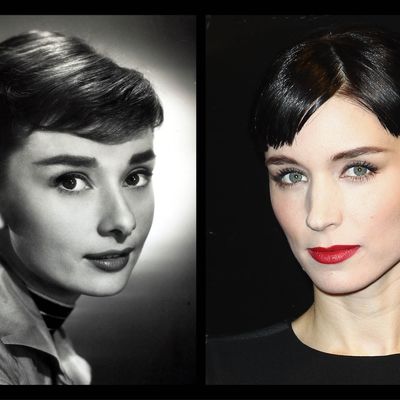 Photo: Popperfoto/Getty Images, Julien Hekimian/WireImage
Every year, some gamine, non-blonde actress with big eyes (Natalie Portman, Anne Hathaway, Emma Watson et al.) is inevitably likened to Audrey Hepburn. Enter: Rooney Mara, 2012. Though not an entirely obvious comparison, Hepburn and Mara might have more in common than unwavering stares and enviable cheekbones. Tomboyish and brunette, Audrey was a refreshing alternative to fifties pinup stars Lana Turner and Marilyn Monroe, and Rooney certainly stands out for her non-conformist goth-princess vibe.
Both actresses became superstars seemingly overnight. Hepburn's 1953 breakout role in Roman Holiday – as a princess gone AWOL – earned the previously obscure beauty an Oscar for Best Actress; Mara has the chance to make that happen this year. Hepburn didn't have to pierce her nipple to play Princess Ann, but let's not forget that in her later role in Breakfast at Tiffany's, she actually portrayed a high-class hooker, so Hepburn was obviously not afraid to take some risks. Just as Truman Capote envisioned Marilyn Monroe for the role of Holly Golightly, Scarlett Johansson auditioned for the role of Lisbeth Salander; both Hepburn and Mara won out over bombshell blondes for their respective roles.
One thing at least seems certain in the history of Other Actresses Compared to Audrey-Hepburn: None but Mara share her baffling ability to turn crazy bangs into style statements.

See our slideshow for a complete comparison of the actresses' looks.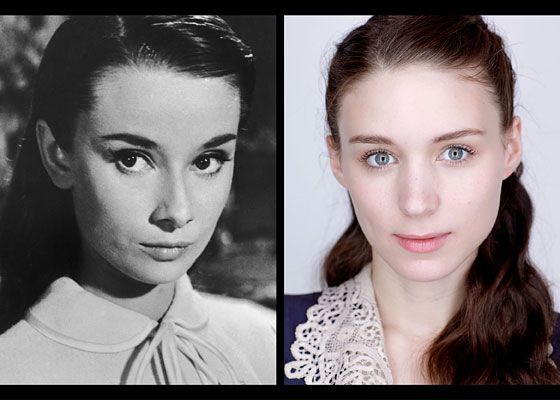 Tame beginnings
Neither actress gained much popular traction with long flowing hair, and each underwent a dramatic transformation at the very beginning of her career, to bold effect. Left: Hepburn with her pre-chopped "Princess Ann" hair in Roman Holiday. Right: Mara with her Social Network college coed hairstyle.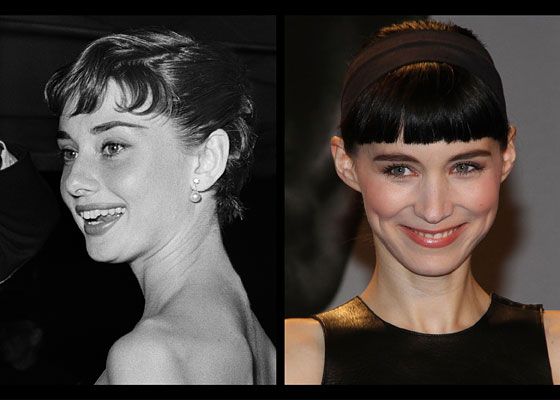 Big bangs
Probably less than 0.01 percent of the population has the bone structure to make such thick, dark, blunt bangs look fashionable, and these ladies' readily remind the world that pageant updos are seldom the chicest red-carpet choice. Left: Hepburn attending a benefit premiere of Roman Holiday, Westwood, CA, 1953. Right: Mara attends the The Girl With The Dragon Tattoo premiere at the Cinestar movie theater on January 5, 2012 in Berlin, Germany.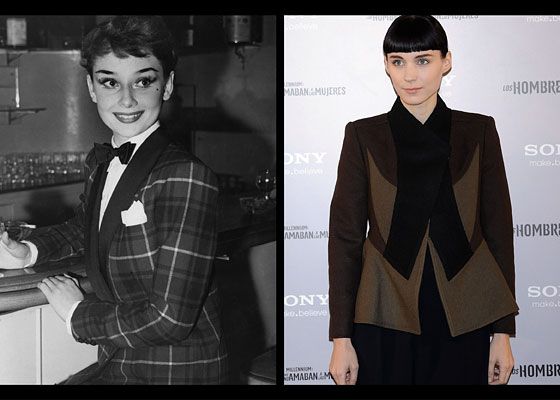 Anti-bimbos
In an article that ran in American Vogue in 1954, Cecil Beaton said of Hepburn, "There is no lack of vigor in her rejection of the softly pretty." Dragon Tattoo director David Fincher's assessment of Mara in Vogue's November 2011 issue — "She's a weirdo. She's a great weirdo" — was less poetic, but makes the same point. Left: Hepburn in London's West End, October 1950. Right: Mara at the Villamagna Hotel, Madrid Spain. January 2012.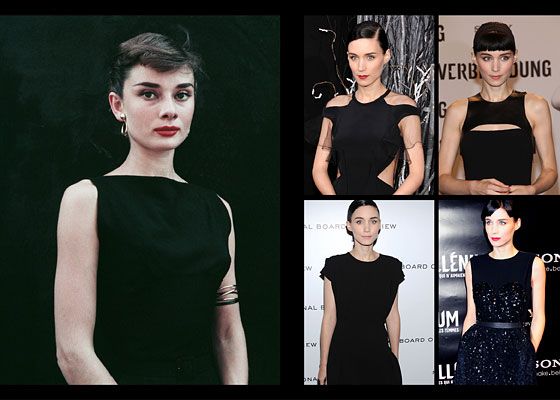 Little black dresses
Hepburn's longtime relationship with Hubert de Givenchy (he made many of the clothes she wore in her films and elsewhere) is the stuff of fashion legend and launched the phenomenon of the Little Black Dress. Mara's signature look is shaping up to be a striking LBD, often paired with dramatic red lipstick. Left: Hepburn in a black sleeveless dress, circa 1955. Right: Mara at several recent premieres and events.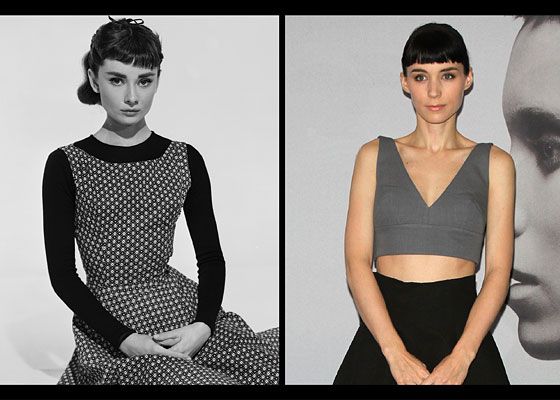 20" waistlines
Her famously nipped waist might have had something to do with the malnutrition Hepburn suffered during WW2, or perhaps it was her ballet training. Mara's middle may not be quite as narrow, but it's sure to stay slim with her elective starvation. Left: Hepburn as she appears in Sabrina directed by Billy Wilder, 1956. Right: Mara in Berlin, Germany, January 2012.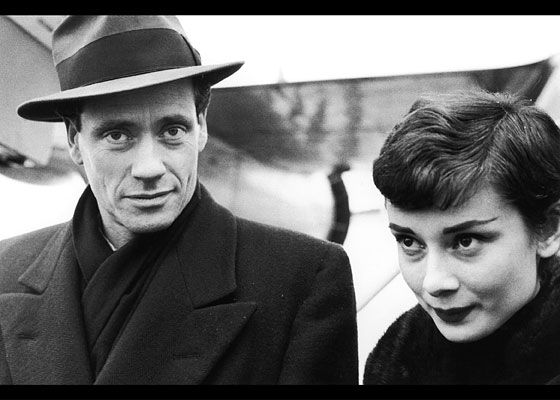 Controlling males
Actor Mel Ferrer (Hepburn's first husband and the father of her first son) was well known for being a control freak. Ferrer and Hepburn in Europe, 1950s.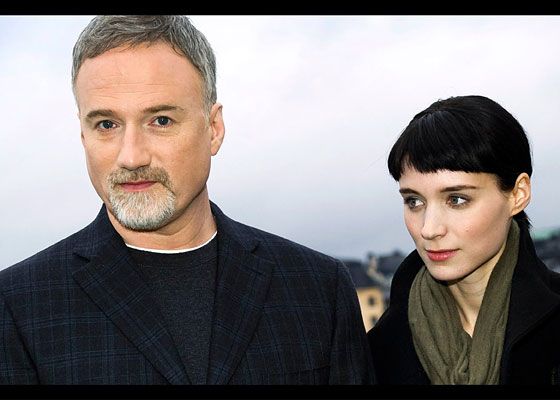 Controlling males
Even though they are not romantically linked, director David Fincher and Rooney Mara's relationship has been noted for its intensity and described by Daniel Craig as, "F—king Weird." Fincher and Mara in Stockholm, Sweden, November 2011.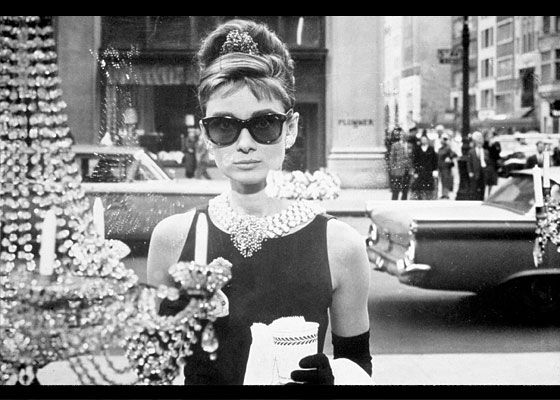 High-fashion inspiration
Breakfast At Tiffany's has been referenced (according to our expert analysis) roughly 100 million times by fashion editorials. Hepburn, as Holly Golightly, in a still from the film Breakfast at Tiffany's.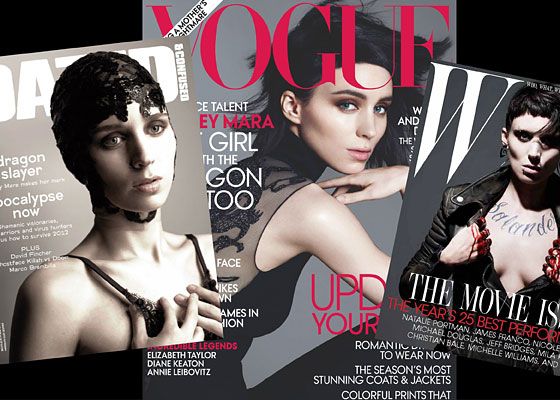 GWTDT might also become a fashion editorial-inspiring phenom. (And that's not even taking into consideration the clothing lines born from the movie.) Various covers of fashion magazines featuring Rooney Mara in her new look.