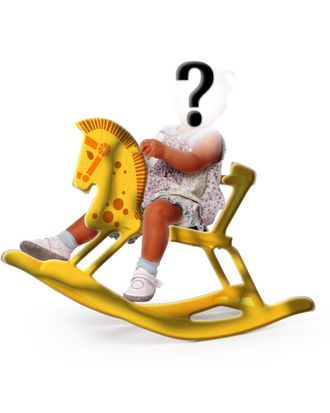 Beyoncé and Jay-Z did not register at Babies 'R' Us for Blue Ivy — they registered at Babies 'R' Fabulous! To go with the days-old, blessed cherub's consortium of (what one can only assume are) freakum diapers, fans made of money, and pre-determined stage names like Blue Fierce and Blue Bérry, the new parents will also bestow on their spawn the following extravagant gifts, the Post reports:
1. "[A] solid-gold, handmade horse from Japanese jeweler Ginza Tanaka that Jay-Z bought for $600,000."
2. "[A] coach-like crib from PoshTots, for which her her parents paid nearly $20,000."
3. " [A] $15,000 highchair dripping with Swarovski crystals."
The parents are rumored to have spent about $1.5 million on these things and more for Blue Ivy. The couple did not say whether they plan to adopt any full-grown adults who own nothing Swarovski or solid-gold and dream of being hand-fed by Beyoncé (or her nanny) from a crystal pedestal.