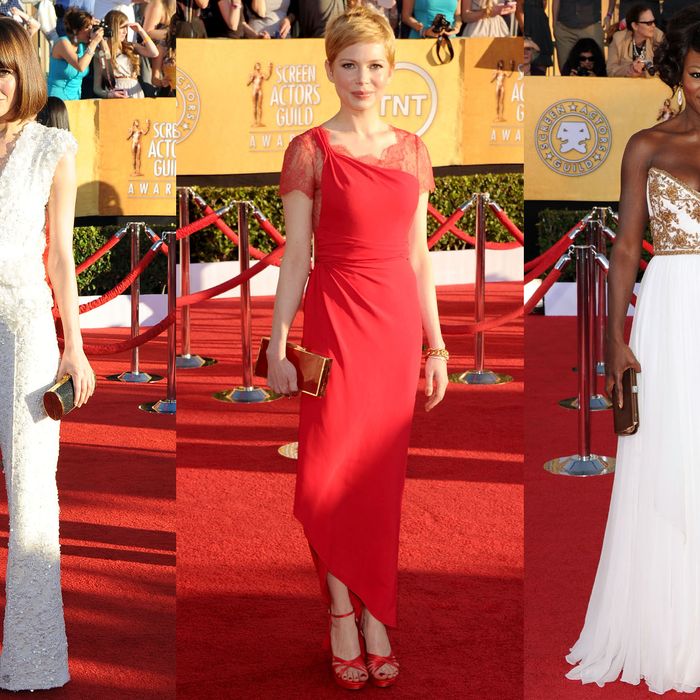 LOS ANGELES, CA - JANUARY 29: Actress Michelle Williams speaks onstage during the 18th Annual Screen Actors Guild Awards at The Shrine Auditorium on January 29, 2012 in Los Angeles, California. (Photo by Kevin Winter/Getty Images)
Photo: Andreas Branch/PatrickMcmullan.com, Jason Merritt/Getty Images (2)
The Screen Actors Guild Awards are — not to be uncharitable — basically an interim awards show: a handy way to pass the time before the Academy Awards, while conveniently keeping the actors contained and happy (God knows we can't have one of them going rogue because of the lack of attention in the middle of awards season).  Unfortunately, it felt like a placeholder in terms of the red carpet as well, as if everyone is withholding their stunning best and crazy worst for Oscar night. Still, thankfully, it eked out just enough hits and misses to get us all riled up in slideshow format. (For a complete slideshow of all the looks, go here.) Spoiler: Kristen Wiig may never wear a choker again. For more Fug Girls, go here.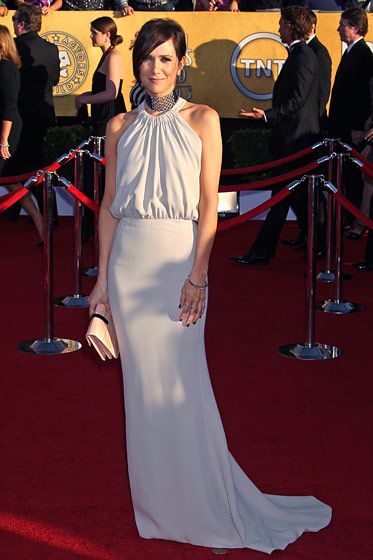 Most Soul- (and Larynx-) Crushing: Kristen Wiig. We are decidedly not neutral on Wiig's addiction to neutrals: It's downright boring, and a lady with so many other physical gifts should find livelier ways of showcasing them. Ways that do not include embellishing your halter-necked dress with a choker – much less one so intrusive, it looks like a high-fashion trach hole.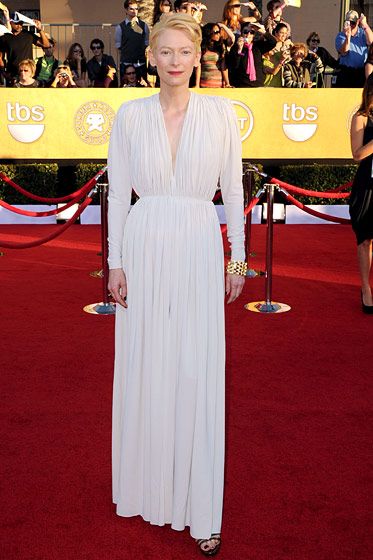 Most Disappointing: Tilda Swinton. Perhaps she's just bummed out about that Oscar snub – in truth, so are we – but history has taught us to expect rather more from Tilda Swinton, in either the extravagantly hideous or inventively fabulous directions. Sometimes both at once. This is neither. If anything, it's strenuously bland, which is never a word we've associated with Swinton. And hope to never use again.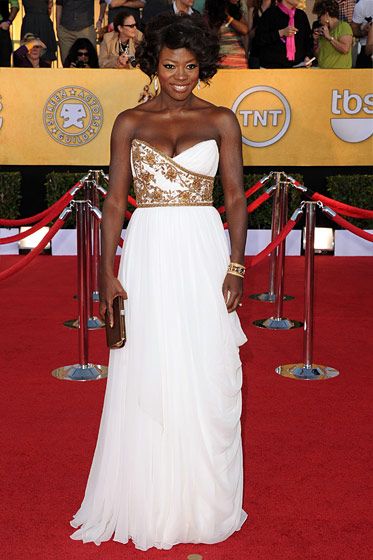 Best Cleavage: Viola Davis. We enjoyed the way Viola switched to a softer curly bob, but we really love that she's embracing her inner (and outer, apparently) bombshell with a graceful gown that plunges in just the right way. Why leave all the fun to the whippersnappers?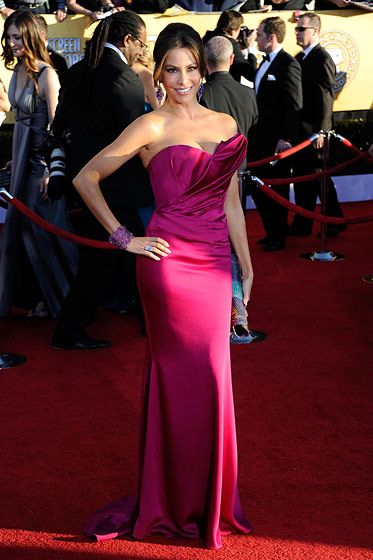 Best Marchesa: Sofia Vergara. After a string of mostly misses, Marchesa must have gone all-out in selling its more subtle confections to the stars of the SAGs. Davis and Stacy Keibler also wore the label, but it was Vergara – who, admittedly, is hard to dress badly because her body forgives every sin – who shone the brightest in the label. The woman knows exactly what works on her, and how to – or not to – accessorize it. Take notes, Wiig.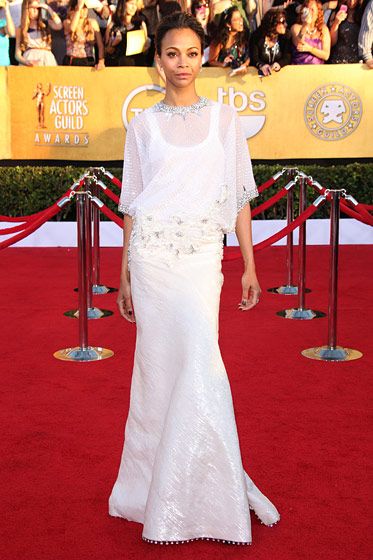 Worst Use of the Poncho: Zoe Saldana. We really like Zoe Saldana – from Center Stage to Hollywood darling in so few years! – and she is better than almost anyone at nailing a challenging look. But she uncharacteristically whiffed the dismount on this one. White feels overplayed after seeing so much of it over the past year, and the silhouette is dowdy. The plus side: better here than at the Oscars.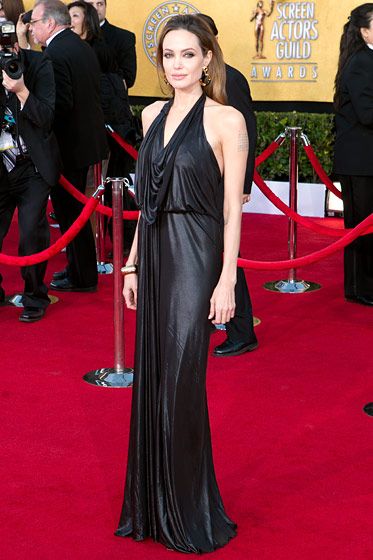 Best Left Turn: Angelina Jolie. After going so all-out regal at the Globes, it was wise of Angelina to relax a bit into something closer to her usual speed – draped, dark – that still stopped short of Muumuu City. We like the almost leathery way that slinky fabric catches the light, as if she's reminding us all that, yes, although she's a doting mother of fifty (or whatever), she is ALSO the girl who once wore accessories containing actual human blood.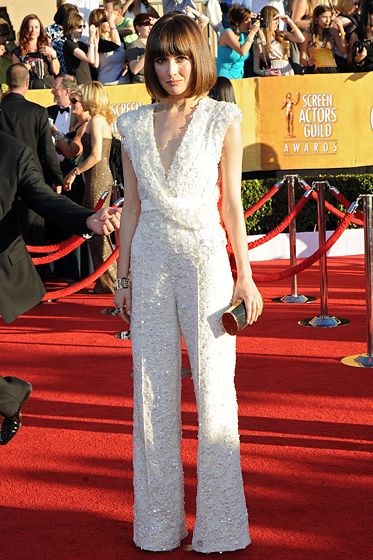 The First Annual Oh My God, Is that A Jumpsuit? Award: Rose Byrne. Rose Byrne is gorgeous, but a white, beaded jumpsuit does no favors for anyone. Well, with the possible exception of Elvis.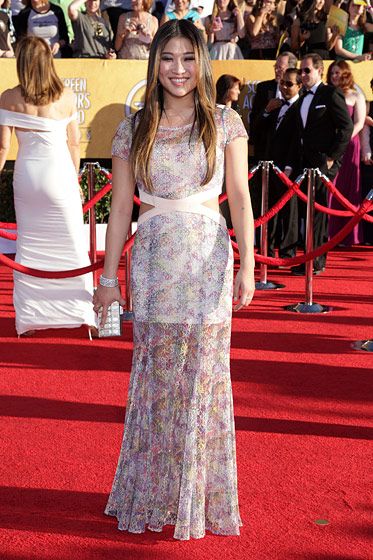 Fussiest: Jenna Ushkowitz. We'll start this with a little kindness: Jenna's beachy hair and makeup really work on her. Unfortunately, her dress looks like it came from a clearance rack at Bed, Bath, and Beyond.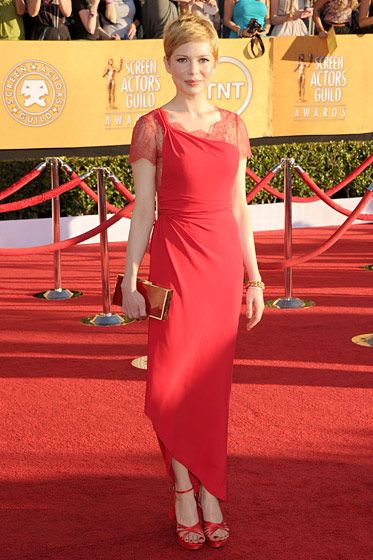 Best Surprise: Michelle Williams. We are beyond relieved that Michelle Williams managed to break out of her usual diet of neutral-colored crewnecks and into a brilliant red. Do we wish she'd avoided the bridesmaidlike red sandals? Sure, but when things are only bad from the ankle down, it's hard to complain too voraciously.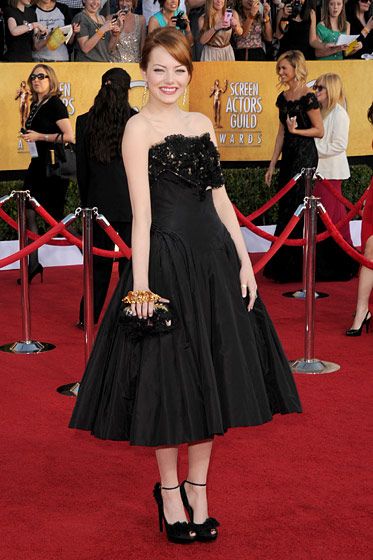 Best Tea Length: Emma Stone. This particular length has a way of making the most willowy starlet look stumpy – and yet Emma Stone looks completely adorable in this Alexander McQueen. Bonus points for the shoes, which compliment her look without being totally matchy-matchy – a neat trick at an event where more than one woman made that mistake. She's so adorable, we want to hate her … but she's too adorable to hate.