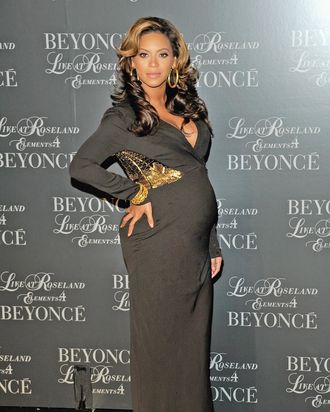 Congrats mama!
Photo: Jemal Countess/Getty Images
Just before Beyoncé gave birth (!!!) to little Blue Ivy Carter on Saturday night — via schedule C-section, if you must know — in her private wing at Lenox Hill hospital, a bunch of people were seen delivering bags of takeout and a dozen bottles of red wine to the "heavily guarded" area, the Daily News reports. Now that is how you celebrate childbirth, folks. (The takeout was surely not the greasy variety that you were probably ordering for yourself on Seamless at precisely the same time that evening.) Because why sit around all sober and hungry and nervous when you could prepare to celebrate the baby with a full tummy, a nice red-wine buzz, and clinking glasses? Now everyone get excited to see photos of little Blue swathed in lovely cashmere baby blankets, sparkly baby booties, and adorable furry baby hats!
Earlier: Babyoncé Is Here!!