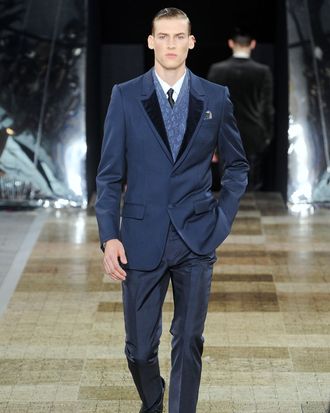 A look from British designer Kim Jones's fall 2012 men's Louis Vuitton collection.
Photo: Imaxtree
This week the British Fashion Council launched a new initiative and advisory board aimed at promoting the country's rising menswear talents. Longtime editor of British GQ Dylan Jones will serve as the chairman of this board, which has scheduled events throughout the year meant to raise the profile of emerging designers and better foster their talent. (The first event takes place this Sunday in Paris, as fall's menswear season comes to a close.)
As a fashion capital, London is known for breakout design talent, but less so as a viable base for those burgeoning careers to flourish. Instead, designers often take jobs at European design houses and build their reputations on the Continent. In recent years, though, the city's scholarship programs and mentoring schemes have helped a growing number of strong womenswear designers establish themselves on the international scene without needing to move their operations abroad.
A number of menswear designers in London are riding a wave of popularity and recognition — from Jonathan Saunders, who made his menswear debut in Milan earlier this week, to James Long, recent winner of a 2012 Fashion Forward scholarship. J. W. Anderson, Christopher Shannon, and Christopher Raeburn are also among the pool of menswear designers receiving assistance from (and/or being nominated for) funding schemes and BFC-sponsored programs. Raeburn says the push is necessary, and that more could be done to help them at home: "We need to improve the visibility of menswear in comparison to womenswear … there are [currently] five days devoted to womenswear in the London Fashion Week schedule compared to one for men." Dylan Jones noted that part of his committee's plans include "strategic changes to the menswear element" during LFW, though an immediate expansion seems unlikely.