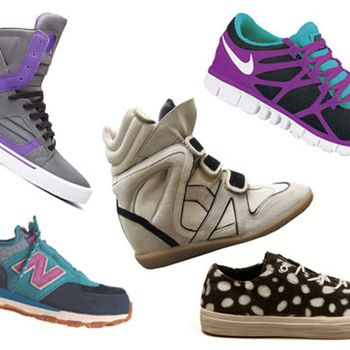 Clockwise from top left: Just Blaze! Skytop II by Supra, Willow by Isabel Marant, Free 3.0 v3 by Nike, LC2 Low Cut Sneaker by Forfex, and New Balance x Bodega 581.
It used to be that wearing sneakers in public meant one of two things — you were headed to the gym or you were running errands in comfort. Those who wore kicks as a fashion statement were generally the die-hard sneakerheads who wait at midnight for the latest releases. But as Tommy Ton noted, the most surprising trend of 2011 was the resurgence of sneakers among the fashion set, between Celine's Phobe Philo taking her post-show bow in white trainers and Tamu McPherson of All the Pretty Birds running around Fashion Week in brightly colored Nikes. Designers are taking notice in their collections as well — from Lanvin to the ever-popular Isabel Marant, tricked-out kicks are sitting side-by-side with sky-high heels in the stores. Looking to get in on the trend? Our latest Shop-a-Matic has 100 sneakers, from limited-edition collaborations to workout-friendly pairs that look equally good on your off days. So swap out those heels and don't be surprised if you'll be seeing some of these kicks on the street style blogs come Fashion Week.
Just Blaze! Skytop II by Supra
Price: Upon request
Why We Like It: Music super producer Just Blaze collaborated with in-the-know sneaker brand Supra on a pair of custom kicks which go on sale this Saturday. Only 413 of these will be produced and the price is kept under wraps until the day of release, making it a prized addition to any sneakerhead's collection.
Price: $760
Why We Like It: Quite possibly one of the most popular sneakers out there, with good reason: Marant's hidden wedge adds three inches of height for the ladies who need a little boost in flat shoes. Much like the limited edition collaborations, these kicks require getting your name on a wait list because they sell out fast.
Price: $90
Why We Like It: A mix of bright colors keeps the sneaker fun and appropriate for wear outside of the gym, but the trainers also have the tech to support a long run with a super flexible and lightweight sole that simulates barefoot running but stills offer enough support for the joints. 
Price: $150
Why We Like It: An abstract polka-dot pattern combined with weathered leather make for a cool alternative to the ubiquitous (but always classic!) Converse.
Price: $120
Why We Like It: Hidden behind a convenience store front, Bodega is a semi-secret Boston sneaker store for die-hard collectors, but their continued collaboration with New Balance brings their aesthetic to the masses. Inspired by ski jackets from the nineties, the brightly colored kicks have fleece details that reference the lining of said jackets.