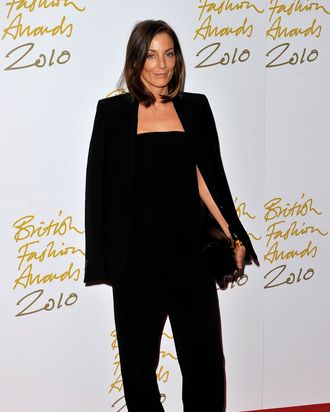 Celine designer Phoebe Philo.
Photo: Gareth Cattermole/2010 Getty Images
Earlier this week, LVMH announced that they're canceling this season's Celine show because of designer Phoebe Philo's pregnancy (they'll mount some sort of presentation instead). Philo will be eight months pregnant with her third child by that time, and has been known to fiercely protect her family life in the past: She took a few years off after resigning from Chloé (2006, 2007, and most of 2008) to spend time with her first child and give birth to her second. 
Although it seems obvious that the fashion industry — which, after all, caters largely to women — would be open to something so commonplace as maternity leave, Philo is actually the first major designer to have taken it (in 2005, while she was at Chloé), according to the FT's Vanessa Friedman. Moreover, Friedman suggests that LVMH's unusual sensitivity to Philo's personal needs this season might have something to do with last year's Galliano debacle. This is an interesting thought: It takes a major public meltdown from Galliano for fashion executives to realize they should be respectful of their employees' basic maternity needs?
Friedman writes:
The Celine move marks a conscious decision to choose the designer over possible marketing returns from the runway pictures (front row, celebs, backstage) that benefit brands every season, and is the first time I can remember that an LVMH house has done anything like this. Even after John Galliano's fall, they continued to have major shows for Dior, refusing to miss a season.
Friedman reached out to Marco Gobbetti, Celine's CEO, to ask him why they're suddenly willing to sacrifice the publicity and hoopla surrounding a major runway show so that Philo can ensure her own healthy pregnancy (the nerve!). His response: "We could miss some marketing opportunities, however we do not believe it would represent a significant impact in the scope and term of our project. In the end, all we do is made by people through their talent and skills. It's all about humans, isn't it?"
This is a perfectly logical outlook on nurturing one's top staffers: Be good to them, and they'll do a good job. It's also an idea that might be increasingly embraced in the wake of top designers buckling under pressure (Galliano, Balmain's Christophe Decarnin), according to Friedman:
Is this a subtle effort to shift the LVMH corporate image from one of big executives putting outsize pressures on designers to one of cuddly-wuddly executives who sympathise with designers? Will it have a domino effect on the industry, as most brands are just waiting for someone else (someone big) to lead the way toward change in what has become an inefficient and unworkable runway schedule?
Galliano and inefficient scheduling aside, one hopes that women in today's working world (or men, for that matter!) should feel perfectly entitled to scale back on their day jobs for maternity (or paternity) reasons. LVMH's decision to accommodate Philo's needs is a step — however belabored, or belated — in the right direction.