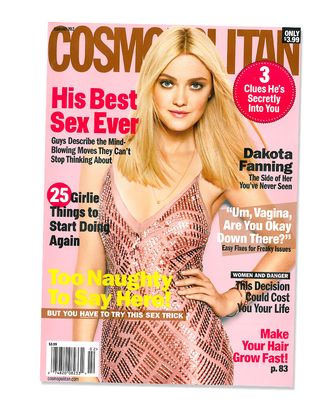 Welcome to your Cosmo years, Dakota!
Photo: Cosmopolitan
We were kind of surprised to find out that it's Dakota Fanning covering the February issue of Cosmopolitan. She looks beautiful with a blunt haircut and pink-beaded J.Mendel dress, but she's surrounded by cover lines like "His Best Sex Ever," "Too Naughty to Say Here," and "Um, Vagina, Are You Okay Down There?" We don't mean to be prude, but isn't she like, 17?  
Actually, she is, and that's just what the article inside, entitled "Welcome to Your Cosmo Years, Dakota" is about. 
Fanning is turning 18 in February, but, wrote Jonah Weiner, "has always seemed much older than she is." In addition to Fanning's sophisticated roles, he cited evidence like her firm handshake, five-inch wedge heels, and the fact that she eschewed a Fluffernutter (with sponge cake, peanut brittle, chocolate mousse, and marshmallow gelato!)  in favor of pancakes with syrup on the side.  
The feature also included a timeline of Fanning's yearly style highlights since 2001, when she would have been just 6 or 7, culminating with her strapless Valentino at the 2011 Met Ball. For their part, Cosmo styled the actress in a gray mesh zip-up bustier dress by Vera Wang, and in one shot, bunny ears, awkwardly captioned: "Two years ago this would have been cute. Now it's hot." 
So the message seems to be, Dakota, girl, you'll be a woman soon. Or rather, you are now. In bunny ears!