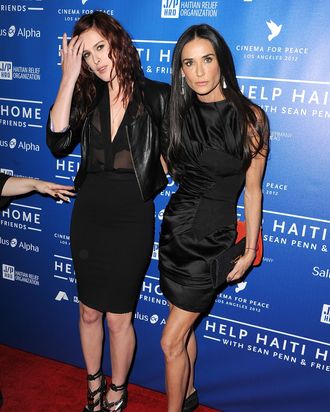 Demi with Rumer Willis.
Photo: Steve Granitz/WireImage
Demi Moore's split from Ashton Kutcher was upsetting. No one deserves to have her relationship crumble amid a tabloid scandal about her man engaging in illicit activities with two random women in a hot tub. And women who fondly remember Moore from films like Ghost, and generally see her as a beautiful, fashionable, and fit ideal, especially for someone turning 50 this year, will only find today's reports from Us Weekly much more upsetting:
After weeks of hard-core partying at various spots around Hollywood, it all came to a head on Monday evening, when the painfully skinny star called 911, was rushed to a hospital, and explained through her rep that she's seeking "professional assistance to treat her exhaustion and improve her overall health."

An insider confirms to Us Weekly that Moore suffered a seizure on Monday, prompting her 911 call. (TMZ claims that Moore was doing "whip-its," inhaling nitrous oxide, to get high.)

"She has spiraled," the source explains, "and gotten to a place where she is struggling too much to function."
The source went on to call Demi's life "completely in crisis"; the actress also pulled out of Lovelace, the film she was working on, only to have been replaced by Chloë Sevigny. 
Moore, who has essentially been on anorexia watch by the tabloids following her divorce, is not the kind of celebrity we expect to see these types of stories about, which only makes it that much more troublesome. She's not a Mel Gibson or Lindsay Lohan or Charlie Sheen — the reports aren't about her throwing drinks at — or in any way harming — other people. It's not hard to understand loosing a few pounds after a breakup, but these latest reports are truly troublesome.