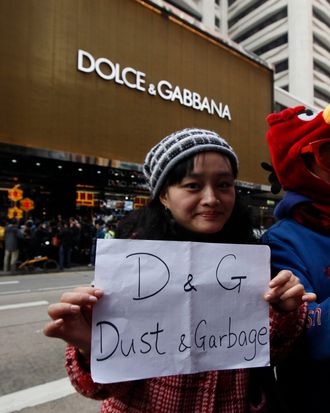 Disgruntled no longer.
Photo: Kin Cheung/AP
Dolce & Gabbana issued an official apology to the citizens of Hong Kong for the racially tinged photo controversy that prompted over 1,000 protesters to stake out their store. "We understand that the events which unfolded in front of the Dolce & Gabbana Boutique on Canton Road have offended the citizens of Hong Kong, and for this we are truly sorry and we apologize," the Italian fashion house said. "The Dolce & Gabbana policy is to welcome the Hong Kong people and that of the whole world respecting the rights of each individual and of the local laws." In an extra gesture of cultural goodwill, the brand wished everyone a happy and prosperous year of the dragon (Chinese New Year is on Monday). No doubt everyone was more than happy to lay this matter to rest.
Earlier: There Are Still Protesters Outside Dolce & Gabbana's Hong Kong Boutique