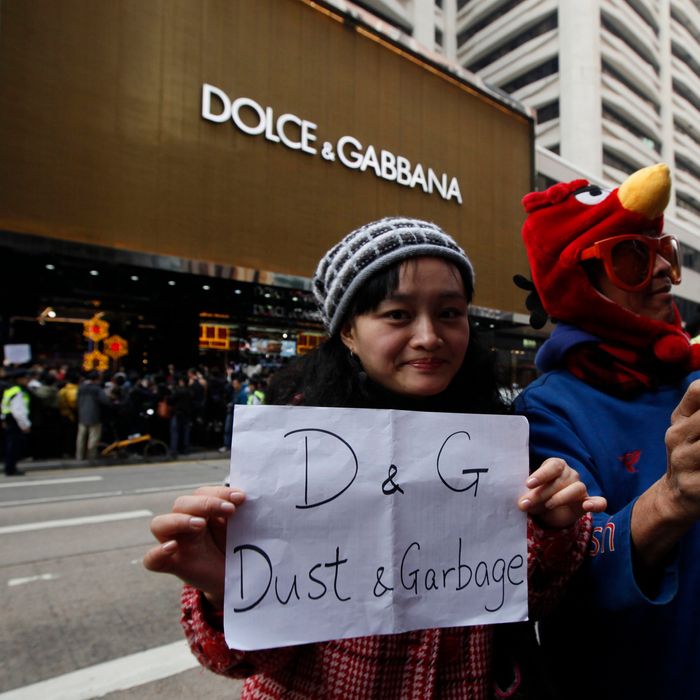 Why the rubber chicken?
Photo: Kin Cheung/AP
Staff and security guards outside Dolce & Gabbana's flagship boutique in Hong Kong enforced a new "rule" last week that banned photography both inside and outside of the store. Passersby were not allowed to take pictures of the boutique's window displays or storefront, even if they were standing on the public sidewalk. The restriction was apparently put in place to protect the store's "intellectual property"; however, local residents were angered when it appeared that foreign shoppers and Chinese nationals were exempt from the rule.
In spite of reports in Hong Kong newspapers suggesting the photography ban was meant to protect the privacy of shoppers, Hong Kong citizens organized protests outside the store over the weekend. (Why they brought rubber chickens with them has yet to be determined.) On Sunday, over 1,000 protesters were in attendance with signs and slogans and, ironically, lots of cameras to document their efforts — by 3 p.m. that afternoon, the crowds forced Dolce's store to close early.
The mall housing the store apologized for "the inconvenience" in a statement that followed the protest, and said they would be "[listening] to the views of people from different sectors" moving forward. Dolce & Gabbana issued their own statement in turn, saying they wanted "to underline that our company has not taken part in any action aiming at offending the Hong Kong public." But it would seem that as long as the rule remains in place, offense will be taken.