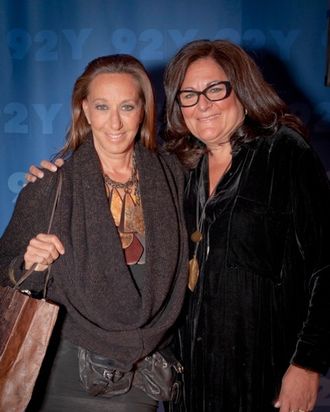 Donna Karan and Fern Mallis.
Photo: Joyce Culver
"You have no idea how close we were to doing this entire interview on Skype from Haiti," said Fern Mallis of hosting Donna Karan for her Fashion Icons discussion series last night at 92Y. But lo, Karan had flown back to New York with a suntan and an armful of Haitian horn bangles for their chat. She's been spending lots of time in Haiti lately (as evidenced by her spring ad campaign), where she's gotten involved in the local artisan industry. She's even contemplating hotel construction there, which isn't physically in the works yet, but, according to Karan's vision, would involve lots of acupuncture, yoga, massage, and green juice.
But since Mallis asked her question about her fashion career, Karan talked about that too. She chronicled her beginnings at Anne Klein and her transition to creating "seven easy pieces" for her eponymous label, which of course included the bodysuit. She also recalled dressing the Clintons for Bill's inauguration. She was sure that Bill was a size 54 extra long, not a 54 long as he specified. "But he was actually right. I couldn't believe it," she said.  "The man has never been wrong. He is my inspiration in everything I do." (The two have been working together in Haiti.) On a less fortunate note, she remembered the criticism she got for Hillary's cut-out "cold shoulder" dress. She had good intentions, though: "The only place you never gain weight is your shoulder," she explained.
At the discussion's conclusion, Karan attempted to create an Urban Zen moment, announcing that she'd like to lead the crowd in meditation. Mallis quickly interjected: "Not now!"