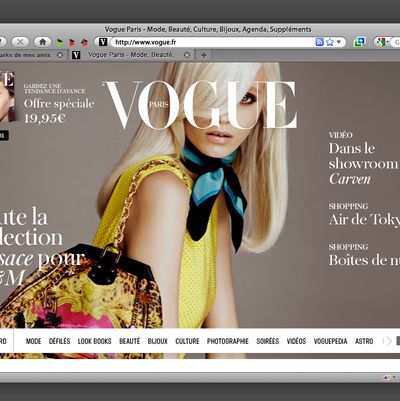 The homepage of French Vogue's forthcoming website.
Have you been to French Vogue's website lately? No? That's probably because the format is cluttered, the photos are grainy, and the whole thing desperately needs a revamp. According to a press release from Condé Nast this morning, a freshly scrubbed Vogue.fr will go live on February 6, just in time for the fall show season. Here's what you can expect:
Contents wise, the new Vogue.fr blends the digital and print editions, feeding off each other under the watchful eye of Emmanuelle Alt, and aims to be the digital extension of the magazine, adapted to the time frame and use of the media.

"Vogue.fr is first and foremost Vogue, its style, spirit and view," explains Emmanuelle Alt, news editor of Vogue. Private meetings with fashion creators, backstage at shoots by the biggest fashion photographers (Mario Sorrenti, Peter Lindbergh, Mario Testino, Inez & Vinoodh … ), including the key current fashion and the editing choices … more than media, Vogue.fr lives and creates unique and exclusive content every day based around 15 key meetings.
Although "15 key meetings" a day sounds a little excessive — suggesting that it's probably a mistranslation (running a website in between all those meetings would sure be tricky) — this new site will surely look great, design-wise. Perhaps most importantly, it promises to have lots of cool fashion photos, which you can even paste into your own "moodboard" section if you're into that sort of thing (American Vogue's website has a similar feature, called a "lightbox"). Because there's no such thing as too many pretty pictures on the Internet, right?