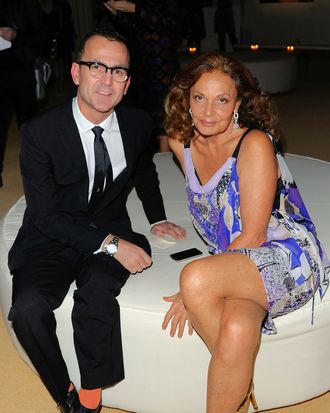 CFDA CEO Steven Kolb and president Diane Von Furstenberg.
Photo: Andrew H. Walker/2011 Getty Images
Business in the garment district, the historic epicenter of American fashion design located in a particularly sorry corner of midtown, has been on the decline for years now. The CFDA has championed its preservation by funding emerging designers who set up shop there (through the CFDA Fashion Incubator) and creating other initiatives, like the "Made in Midtown" project. So it does seem just a tad hypocritical that the CFDA is now moving its headquarters, currently located on Broadway and 39th Street, to a bigger building on Bleecker Street in Noho. 
Aware that the move might make them look bad, the CFDA is taking great pains to explain that they still love the garment district, and that they'd have stayed there if they could have found an appropriate space. CEO Steven Kolb tells WWD:
Right now, if you look around, we are busting out of the seams … We can't have any significant meetings here. Given the fact our lease is up next year and we have outgrown it, we started looking.

When we went on that hunt, we were sensitive to neighborhoods … Our intention was to look heavily here, and we considered buildings in the Garment District significantly in our search. The criteria by which we were finding space was ultimately based not on neighborhood, but what the best space for a functioning office for the CFDA was.
The same could be said for plenty of other fashion labels who abandoned the area for newer, cheaper, more spacious digs over the years. And really, what's so wrong with that? Particularly if moving means you're within the delivery zone for Bleecker Street Pizza.