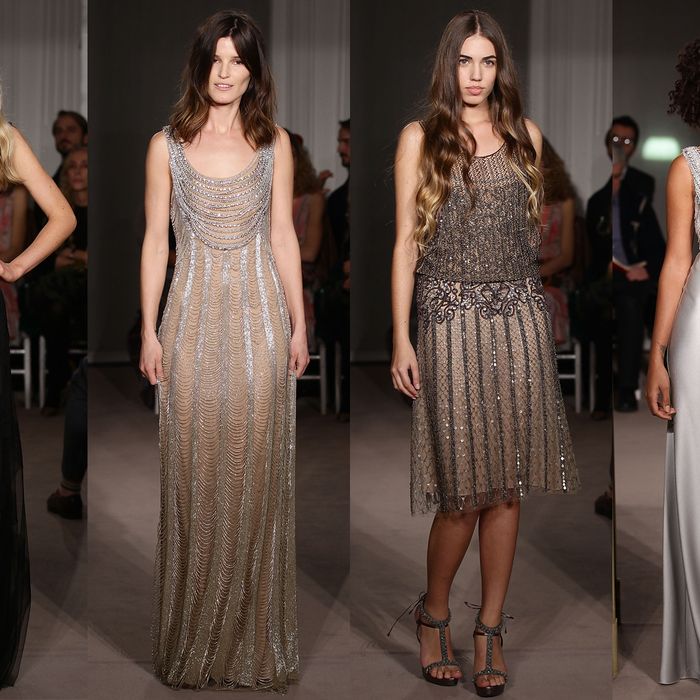 From left: Florence Brudenell-Bruce, Hanneli Mustaparta, Amber le Bon, and Solange Knowles.
Photo: Vittorio Zunino Celotto/Getty Images
Alberta Ferretti held a fashion show over the weekend showcasing looks from her new "Limited Edition" demi-couture collection. The Telegraph reports that it's the first time a full womenswear collection has been presented in Milan outside of the regular fashion weeks; Ferretti also replaced "normal" models with a lineup of socialites and "semi-celebrities." That's not to say many didn't possess runway experience — those on the catwalk included Tali Lennox, Amber le Bon, Angie McDowell's daughter Sarah Margaret Qualley (who modeled the designer's spring 2012 Philosophy collection in New York last September), model-turned-blogger Hanneli Mustaparta, and lingerie model/Prince Harry's rumored ex-girlfriend Florence Brudenell-Bruce.
Solange Knowles, British socialite Mary Charteris, street style photographer Candice Lake, jewelry designer Zani Gugelmann, and Wonderland magazine's fashion editor Julia Sarr-Jamois also walked the runway. While all of them no doubt took the show very seriously, the Telegraph reports that "there were plenty of nervous smiles, fey half-waves to pals in the audience and mouthings of 'Oh-My-God.'" But at least no one played the air piano.