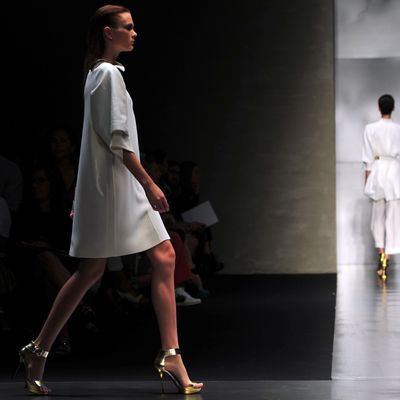 Models at Milan Fashion Week, where this mess all began.
Photo: GIUSEPPE CACACE/2011 AFP
The CFDA and the British Fashion Council have officially agreed to move up their fashion week dates by a week next September, hopefully settling the conflict with Milan once and for all. According to a press release from the CFDA, New York Fashion Week will run from September 6 to 13, followed by London Fashion Week from September 14 to 18. Milan would then get its proposed dates, September 18 to 25, and Paris will show September 25 through October 2. This solution was proposed back in December, and now it's confirmed.
Perhaps most importantly of all, this new schedule won't mess with Labor Day, which falls on September 3 this year (well, it won't ruin Labor Day any more than Fashion Week normally does, that is). Here's hoping for no hurricanes this year, too.