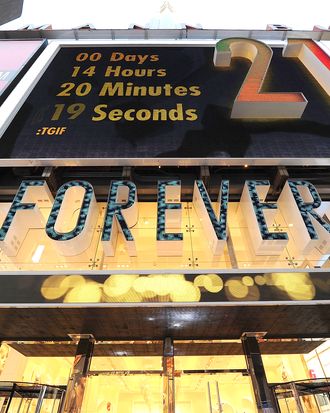 Forever terrifying.
Photo: Dimitrios Kambouris/2010 Getty Images
For once, Forever 21 has been sued for something other than copyright infringement. Yesterday, five employees — one current and four former — filed a class action lawsuit in San Francisco Superior Court, claiming that Forever 21 forced them to work off the clock and denied them meal breaks. HuffPo reports: 
Jazzreeal Jones, Jessica Ramos, Shanelle Thompson, Alyssa Elias and Tiffinee Linthicum, represented by Norton & Melnik, APC, and Kitchin Legal, claim in court filings that they were frequently kept at stores during lunch breaks and after the ends of their shifts while they were searched for stolen merchandise. Because the employees had already clocked out, this amounts to unpaid labor. Moreover, these unpaid hours could add up to millions in damages should other employees turn out to have suffered the same treatment.

According to court filings, employee bag checks are part of Forever 21's loss prevention policy.

In an email, a Forever 21 spokesperson said the company could not comment on pending legal matters, but did note that Forever 21's policy requires the employees to submit to bag checks before clocking out.
While it's hard to imagine that getting searched for stolen merchandise would comprise a notable amount of time, if employees had to wait for a security guard to leave the floor to do so, those hours could easily add up. Either way, being denied a meal break during a retail job (when you can't just munch on vending machine snacks at your desk, in a pinch) is pure cruelty. Chances are this case, like so many others filed against Forever 21, will be settled quietly out of court; in the meantime, you can look forward to less crabby Forever 21 employees.