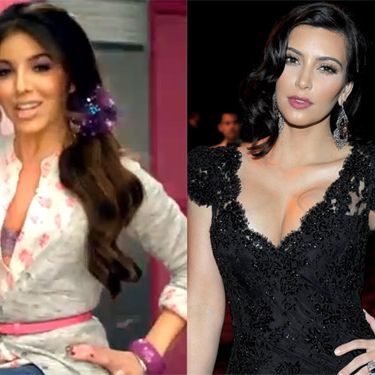 Melissa Molinaro (left) and Kim Kardashian.
Photo: Old Navy, Charley Gallay/Getty Images
Last summer, Kim Kardashian sued Old Navy for using a "look-alike" model in one of their commercials, claiming that the resemblance "damaged her brand." The model in question was Melissa Molinaro, who had previously appeared on MTV's Making the Band 3 as well as the CW's Pussycat Dolls Present: The Search for the Next Doll (you can learn even more fascinating things about her here). Old Navy's parent company, Gap Inc., has since mounted an aggressive defense, and they're reportedly investigating Kim's "reputation" to dig up evidence. The Hollywood Reporter gleefully notes that the case may go to court, and what's more, that Kim's ex-boyfriend Reggie Bush* might be one of Gap Inc.'s witnesses. It's noteworthy that our feelings about this were best expressed by Molinaro herself, via her Twitter feed: "Were still talking about this?! … some people have too much time on there [sic] hands."
* Not to be confused with Ray J, that OTHER ex-boyfriend.