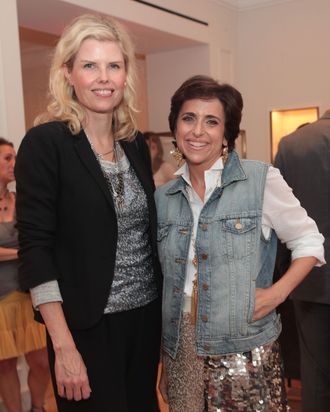 Tracy Gardner.
Photo: Astrid Stawiarz/WireImage
The poor old Gap has been limping along with poor sales figures for years now, but perhaps the company is actually ready to make good on all those promises to fix itself up and sell clothes people actually want to buy. Enter Tracy Gardner, who was the president of J.Crew from 2004 to 2010, after which she resigned in order to "spend more time with her children," according to J.Crew CEO Mickey Drexler (she was replaced by Jenna Lyons). Like Drexler, Gardner worked at the Gap before J.Crew, so this move is a homecoming of sorts.
As of now, Gardner doesn't have a specific title; she'll work "in an advisory capacity and will provide oversight and guidance on the development of our women's product," Gap spokeswoman Louise Callagy told WWD.  And don't expect to see major changes at the store for quite some time — Callagy said that Gardner's first project is "developing holiday product for 2012." (If Gardner brings any of her J.Crew fairy dust with her, this means we can anticipate lots of sequins and artfully half-tucked collared shirts from the Gap come Christmas.) Meanwhile, the brand is still hunting for a successor for head designer Patrick Robinson, who was dismissed this past summer.