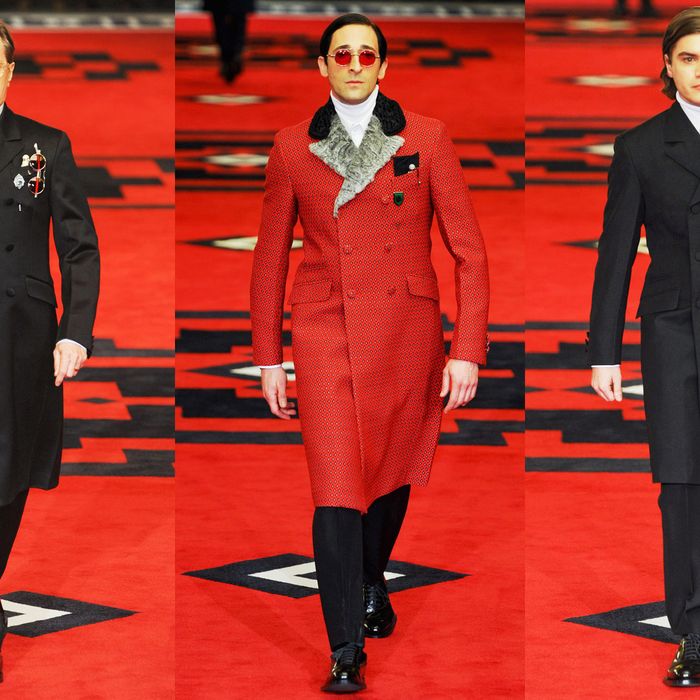 From left: Gary Oldman, Adrien Brody, and Emile Hirsch on the Prada menswear runway.
Photo: Imaxtree
Miuccia Prada convinced a number of actors to skip the Golden Globes yesterday and walk alongside male models in her menswear show in Milan instead, including Gary Oldman, Adrien Brody, Emile Hirsch, Willem Defoe, and Tim Roth. According to a statement from the label, the cast was meant to reflect "the comings and goings of players and power." But unfortunately, most of them just looked out of place. According to Eric Wilson's Times review, Tron: Legacy's Garrett Hedlund "committed at least two cardinal sins of modeling — first making eye contact with the audience and, second, he didn't seem to know what to do with his hands. At the end of the show, he was pretending to play piano along with the soundtrack." Meanwhile, Bell and Hirsch were more composed, but just looked too short. "No offense, fellas, but modeling is for tall folk," writes Wilson. Either way, leave it to Prada to make Golden Globes attendees feel left out.
See the Complete Prada Menswear Fall 2012 Collection.