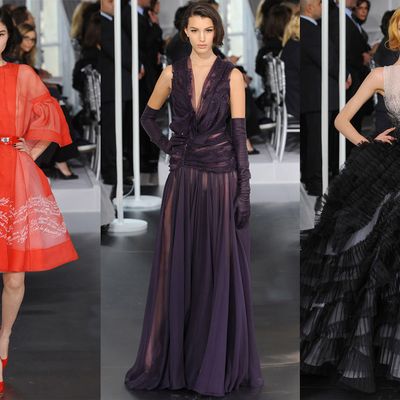 Three looks from Dior's latest couture collection.
Bill Gaytten, Dior's current stand-in designer, has been said to lack the sweeping vision necessary to lead the fashion house. However, most can agree that Gaytten has produced perfectly lovely clothes that people are evidently buying (the brand's sales are better than ever). One of the only rough patches that Gaytten has hit since last year was his couture collection, which was widely panned by critics; Suzy Menkes recalled it as "a romp that looked as if it had been done by a bunch of art college kids." However, this season's couture show, which walked today, was a marked improvement. Menkes writes mostly positive things about it:
This version was technically persuasive: an x-ray image of the essence of Dior, from the famous Bar Jacket, sleek and chic in black alligator, to romantic dresses, light as the proverbial feather. One had a full skirt printed with Christian Dior's maxim, defining "elegance" as the right combination of crucial factors, including "naturalness and simplicity."

Neither was Mr. Galliano's forte and most fashion folk feel that the former designer would, in any case, have had to calm his excess to take the brand ahead.
Despite being strong in the areas that Galliano was not, the collection still lacked the emotional drama that Galliano was so known for (to a fault, as we all well know).
In every sense, this show on the first day of the brief couture season was Dior Light. There was not much personality or charm, yet a careful rendition of the codes of the house, including houndstooth check created with embroidered beading…  It was technically a model of perfection with some exceptional effects, like sequins trapped against the breasts, but it was emotionally barren.
Coldness aside, the show convinced Suzy Menkes that Gaytten really might be the best successor for Galliano after all. And at this point, LVMH may not have much choice; they've reportedly had talks with seven designers so far, all of whom have either backed down or been turned away for one reason or another. And if Gaytten continues to improve at this rate — i.e., more quickly than LVMH can interview potential replacements for him — then perhaps the job will stay his. Goodness knows he's had a trickier job of proving himself worthy than anyone else at this point.
See the Complete Christian Dior Spring 2012 Couture Collection.