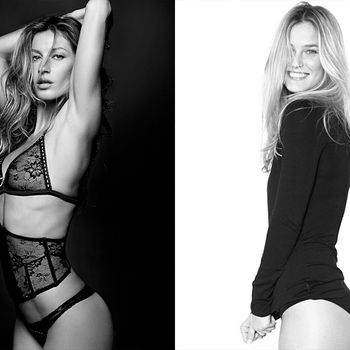 Gisele has had her own underwear line out since May, WWD reminds us today in a story called "Business Models." The news here is that Gisele's line is still around, selling and making her vastly wealthy (it ranges from $20 for panties to $160 for a camisole or corset), and that Bar Refaeli is going to start selling her own underwear line, too, beginning in February in the U.K. Since Refaeli needs the press for and money from this line much more than Gisele — who is so distractingly one sit-up away from being able to crack a chestnut with those abs —  let's just focus on her.
Refaeli's line is called Under.me, and she talked about it with WWD:
Refaeli said she based her line on what "I like and find cute. The Under.me philosophy is that underwear should complement your body, not steal the show. It was appealing to me to do a line of underwear from the fabric I like with the basic, comfy design I always look for, as well as underwear that can actually be delivered to your door."
And this whole time, you're probably thinking about how Gisele's abs probably aren't even that Photoshopped. I mean — the postal system! Good work, Bar.