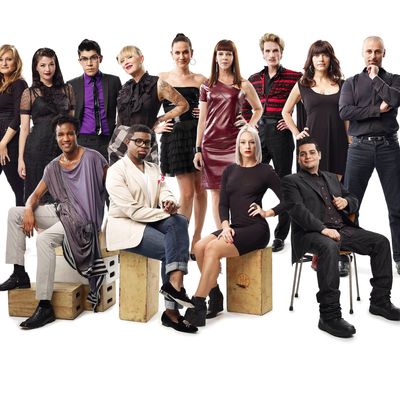 Photo: Kannie Yu LaPack/Lifetime
Project Runway returns tonight with yet another season of cutting, crying, and no doubt increasingly snappy catchphrases. (The series' mentor, Joanna Coles, expects hers to be panty hose–themed.) And as reported, it's an all-star affair — thirteen familiar faces from season's past are back to try to design their way to the win. But with Runway's seasons now stretching back over seven years — and with both spinoffs and knock-offs to consider, it'd be understandable if even the hardiest fan's memories were a little bit fuzzy. 
True to the widely accepted all-star formula, no previous winners are competing this coming season. Instead, there's an intriguing selection of the more talented, controversial, and popular (read: available) contestants back in the running. So for those who can't remember all the way back to season one, click ahead for a refresher on the designers — from their reality show archetype to their most memorable moments, and the looks that caused Heidi to give them the old "auf wiedersehen" their first time around.