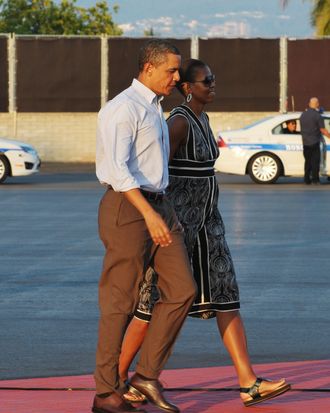 US President Barack Obama and First Lady Michelle Obama make their way to board Air Force One January 2, 2011 at Hickam Air Force Base in Honolulu.
Photo: Mandel Ngan/AFP/Getty Images
We're just three days into the New Year and already Michelle Obama has debuted three new outfits. On New Year's Day, she wore a black, white, and orange dress with orange flats to an exhibition of anthropological work by Obama's mother on display at the University of Hawaii in Honolulu. Returning to Washington, D.C. a day later, she wore a printed black and white dress while boarding her plane; arriving back in Washington D.C. she'd added an oversize gray coat with blue leather gloves. See all three looks in our Michelle Obama Look Book.