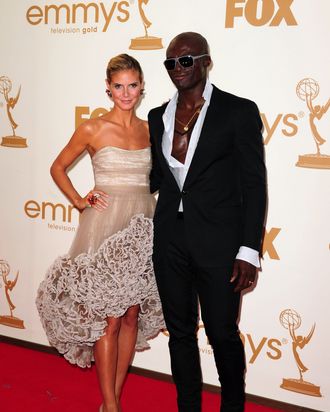 Heidi Klum and Seal this past September.
Photo: Robyn Beck/AFP/Getty Images
TMZ reported on Saturday that Seal and Heidi Klum are divorcing (the site attributed the split to Seal's "volcanic temper," but said that "there is no issue of infidelity"). Late last night, the couple issued a statement to People that they're actually just separating, for now. The statement is as follows.
While we have enjoyed seven very loving, loyal and happy years of marriage, after much soul-searching we have decided to separate. 

We have had the deepest respect for one another throughout our relationship and continue to love each other very much, but we have grown apart. This is an amicable process and protecting the well-being of our children remains our top priority, especially during this time of transition. 

We thank our family, friends, and fans for their kind words of support. And for our children's sake, we appreciate you respecting our privacy.
This is a tragic thing for a number of reasons, particularly because the couple has four kids under the age of 8, but also: What will Halloween be with Heidi-and-Seal couples costumes?!
Earlier: Heidi Klum and Seal to Divorce