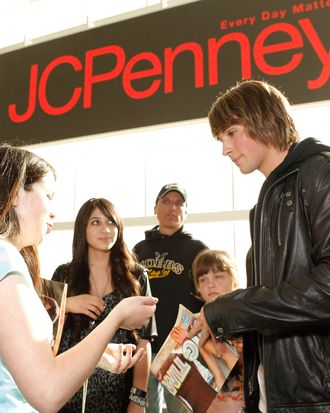 J.C. Penney.
Photo: Todd Williamson/Getty Images
As part of JCPenney's new pricing strategy, they're marking down all of their merchandise by at least 40 percent — permanently — so that shoppers don't have to wait for sales to get the best price. To make up for the revenue they'll sacrifice to do this, Penney's will have fewer sales and promotions throughout the year. This is a novel concept: Rather than trying to lure customers with crazy one-time-only bargains, they're hoping to tempt them with consistently low prices.
Will this be effective? During the weak economy, most retailers have turned to a steady diet of promotions to boost sales (as evidenced by the onslaught of e-mail you get daily from J.Crew, Saks, Gilt Groupe, Rue La La, and countless other retail sites informing you of whatever they have on discount just at the moment). And isn't it so great when you manage to snag yourself that 85-percent-off deal? But it's also annoying to wonder when and if an item will go on sale, and whether your size will still be available by that time. In any case, this strategy sometimes winds up damaging retailers' revenues, because the shoppers who go after discounts often don't buy anything else.
Penney's new CEO, Ron Johnson, joined the company from Apple in November; this pricing overhaul is his first big move on the job. Here are some other details of his strategy, courtesy of HuffPo:
Sale prices become everyday prices. The company will use sales data from last year to slash prices on all merchandise at least 40 percent or lower than the previous year's prices. So, a woman's St. John's Bay blouse regularly priced at $14.99 could have the "Every Day" price of $7.
Fewer sales. The retailer will pick items to go on sale each month for a "Month-Long Value." For instance, jewelry and Valentine's Day gifts would go on sale in February, while Christmas decorations would be discounted in November. Items that don't sell well would go on clearance during the first and third Friday of every month when many Americans get paid. Those items will be tagged "Best Prices," signaling to customers that's the cheapest price.
 New tags. The retailer used to pile stickers on price tags to indicate each time an item was marked down. But now each time an item gets a new price, it gets a new tag too. A red tag indicates an "Every Day" price, a white tag a "Month-Long Value" and a blue tag a "Best Price."
 Simpler pricing. Penney will use whole figures when pricing items. In other words, you won't see jeans with a price tag of $19.99, but rather $19 or $20.
It'll be interesting to see how this turns out. Would you prefer things be cheaper on the whole, or does that ruin the thrill of knowing you got a rock-bottom price just in the nick of time?