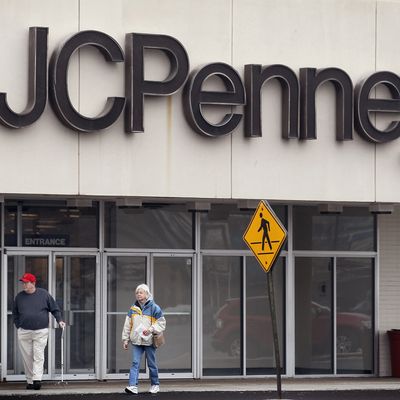 Bye bye, old JCPenney logo.
Photo: Scott Olson/2012 Getty Images
In addition to announcing a new pricing plan that'll replace sales with a permanent 40 percent price cut, JCPenney has signed a three-year deal with  entertainment agency FactoryMade Ventures, presumably so that they can kick off the brand's makeover with some fancy new ads. They're also getting a (very much needed) new logo, and closing down a spinoff e-commerce site called Clad that no one had ever really heard of anyway. To pay for all these changes, JCPenney's new president, former Apple executive Ron Johnson, announced that they're investing $800 million in overhauling themselves. So now we're just waiting for them to announce a big celebrity clothing collaboration — oh, and deal with that Martha Stewart lawsuit — and their transformation into a shiny hybrid of Macy's and Target will be complete!