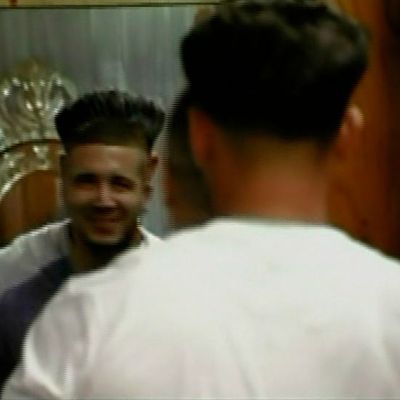 THEY'RE BACK. And lest you think those crazy Jersey Shore kids brought home any of Italy's finest designer attire from their season abroad, they didn't. Seaside Heights seems to have a uniform, even though we doubt there's ever a dress code. Skin is too tan, biceps are too taut, and skirts are, for the most part, short enough that they deserve a-yet-to-be-invented name ("mini" just doesn't do it).
After Deena makes out with some tarmac at the crew's Stateside airport, Pauly D and Vinny make quick business of going to the barbershop. Neither of them eschew their regular 'dos, as it's now likely in everyone's contract that they can't change their appearance. And that's actually a good thing because a bout of playful narcissism in front of a mirror left us aware of the horrifying possibility of what could be were Vinny to grow his hair out. Keep a razor close at all times, Vinny, and not just for the bar brawls.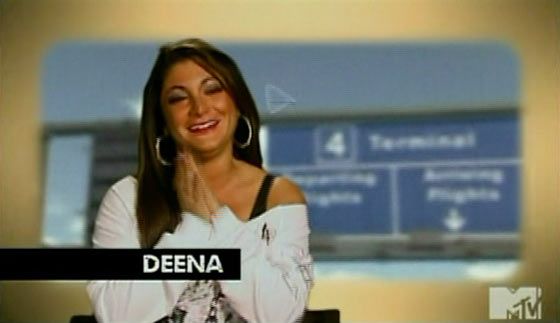 Deena
Now that the Shore cast member are all clearly motivated by the prospect of spinoffs and solo projects, Deena ran off set and auditioned to join the backup-dance cast of a Broadway show … Jersey Boys being the obvious choice.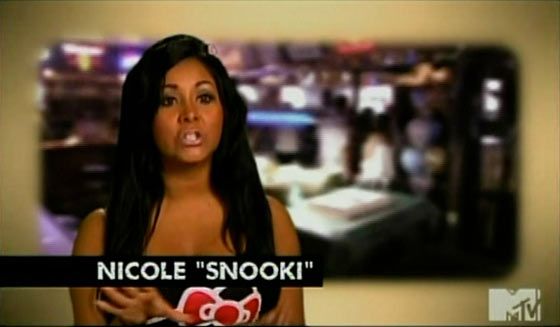 Snooki
Is this a Hello Kitty tank top, and if so, will Sanrio be prepared to take on Snooki in an Abercrombie & Fitch vs. Situation–style standoff? Because really, Snooks and the cutesy little white kitten aren't the most logical of bedfellows.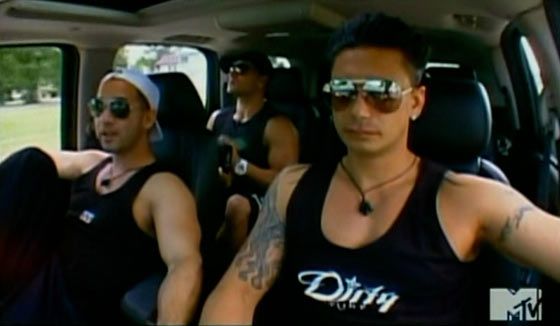 The Situation, Ronnie, and Pauly D
When a beachside stall–bought tank top's slogan says it all. (DIRTY.)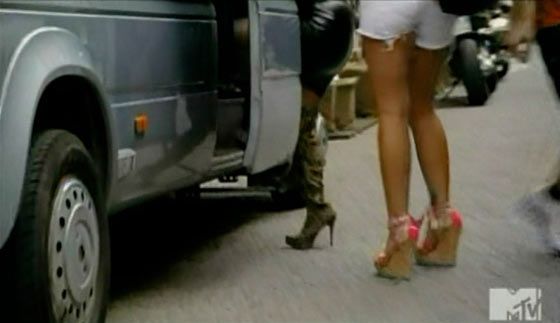 Snooki and JWoww
This is a serious question for the TSA: How can a person get through airport security with these stilettos, but not with a red velvet cupcake? Priorities, please.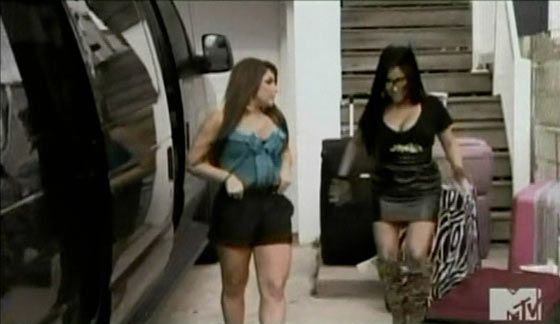 Deena and Snooki
Even considering Deena and Snooki's petite stature, this has to be a very big Humvee or the girls must have shrunk in the wash (along with the skirts they're wearing). And really, who travels like this? These girls run around in fuzzy pink sweatpants at the most inopportune moments, why not pick a pair for a long, otherwise uncomfortable car ride?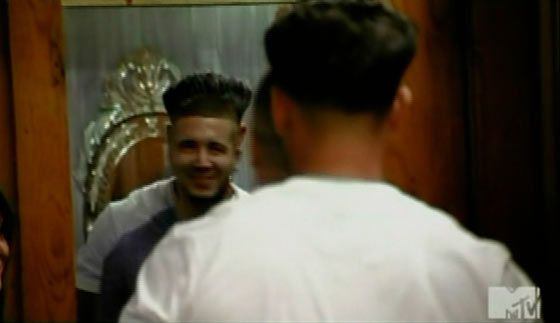 Vinny D — who is, thankfully, not a real person at least in the context of this show. But, somewhere…
This looks like a crow crash-landed onto Vinny's head.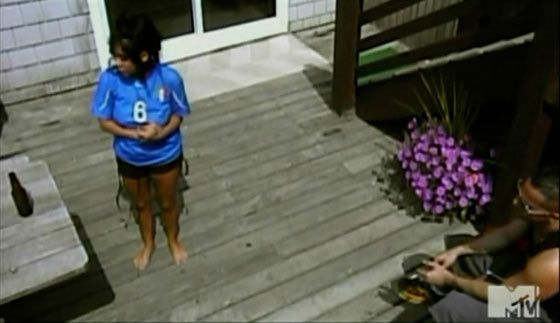 Snooki and Sitch
Well this is just awkward, very awkward in fact. Even the shrubbery is thinking to itself, "I'd rather be in some other roided-out rental home right now." It's also worth questioning Snooki's judgement here — not like for the first time or anything, but still: This is an Italian soccer jersey (or so it would seem to our not-too-good-with-sports-stuff eyes). The keyword here is ITALIAN. We all know what did/didn't go down between Snooki and The Sitch over in Italy, and here she is, throwing it back in his face with the country of their alleged sexytime's flag right at the spot he's going to ogle first.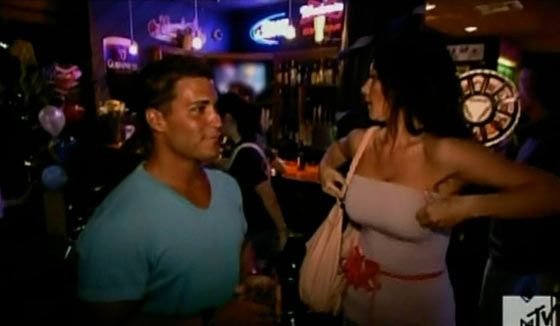 JWoww
reesespieces: I am going to self-flagellate in a moment to atone for this comment, but this guy has an attractive profile. laurasaurus: Blue-shirt guy? reesespieces: Yeah, blue-shirt with just enough of a deep V to make you want more guy laurasaurus: That's Snooki's boyfriend, I think. Jionni? He wasn't very nice this episode. reesespieces: Oh dear, guidos behaving badly? He's doing OK right now, being a good loyal bf and not even looking at JWoww's copious assets. reesespieces: Even when she's clearly testing him with this whole "oh no my tube top should be falling down but it isn't so i'm going to play around with it a bit." laurasaurus: Well, if anyone was going to successfully defy gravity, it would be JWOWW. Also, she looks literally gift-wrapped. reesespieces: Too true. That is a classy little gift bow at her waistline.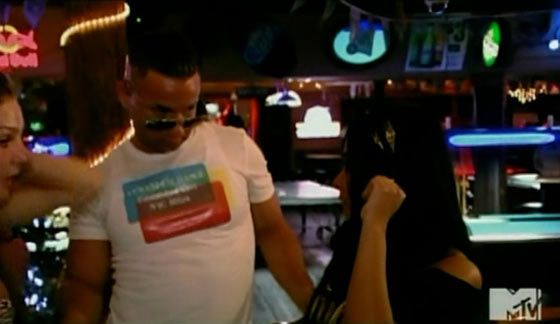 The Situation
Sometimes style doesn't need to be about clothing. Or accessories. Or a glistening forehead. Sometimes it's just a werq-worthy pose. But why is the Sitch wearing what could be one of those "support tanks" under his tight, white clubbing tee? There hasn't been time since Italy for his abs to go south.