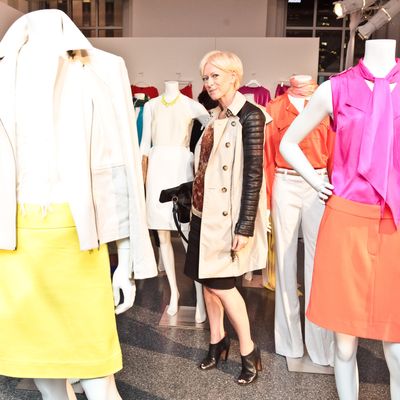 Joanna Coles Event Title: ANN TAYLOR Spring 2012 Collection Location: Rockefeller Loft & Garden 620, N Photo Credit: Matteo Prandoni/BFA Copyright: ©BFA
Photo: Matteo Prandoni/BFA
Project Runway's tenth season starts this Thursday on Lifetime, and it's an All-Star lineup. But while the designers aren't new faces, the judges, host, and mentor all are — designers Georgina Chapman and Isaac Mizrahi, model Angela Lindvall, and Marie Claire editor Joanna Coles, respectively. And while Michael, Nina, and Heidi (along with her auf's) will be missed, it's arguably Tim Gunn who we'll all shed the most tears over. Which leaves Joanna Coles stepping into the toughest spot, taking on the role of the designers' mentor. We spoke with Coles about her time in the Runway workroom, what we can look forward to on the show's upcoming episodes, and how the experience changed her personal style.

How did your role as the All-Stars' mentor come about?
Oh, well I'm sure several other people must have turned them down first because it came up rather at the last minute — I had about twenty minutes to decide. So I thought, "Why not? What fun." It was only halfway through filming that I realized, "Oh, goodness, what am I doing? Tim Gunn is really the star of the [Project Runway] world. What on Earth would make me think that I could replace him?"
But we're very different, and I think having a female perspective helps. I found myself asking the designers, "Why are you making an outfit that no one can wear underwear with?" Am I the only woman in America who wears underwear? I feel like my catchphrase in the workroom became, "Well, what if she wants to wear underwear?" And what was interesting to me in the workroom was that there was some frustration between the female and the male designers. Often the male designers were just like, "God, this is awesome. It's fantastic. It's beautiful," whereas the female designers had a sense of "That is beautiful, but it's unwearable."
That seems to be a dialogue that hasn't come up often in Tim's crits with the designers.
Well, Tim's and my role is slightly different, actually. The All-Star designers are more experienced now — Tim was treating them like undergraduates, I'm treating them as post-graduates. So I'm trying to push them harder, and I want them to create things that people can really wear because this is about, ultimately, being able to have a business that will work commercially.
One of the prizes is an editorship at Marie Claire. Did that factor into the workroom process?
Well yes, if we were going to make that part of the prize package, I needed to know that the contributing editor was going to be someone who could take that seriously and understand the demands of a magazine.
Was that something you were allowed to give feedback to the judges on?
There were clearly people who are just instinctive designers, who don't think about it, who just throw a piece of fabric on a form and turn it into something wonderful — but they don't really understand where that fits in the lexicon of fashion. There are others who are more cerebral, and who understand the context of what they're producing. There was quite a good balance in the workroom, but there were two or three who I felt would make better editors than others. Ultimately though, it was the judges' decision, not mine.
Tim speaks regularly about how attached he gets to the designers during filming. Did you find the experience similar in that respect?
You do get very emotionally attached to them. Of course, some you like more than others. But by the end of it, you've spent lots of time with the finalists, and there were some I felt for. Some of them just got in their own way, and you just wanted to say, "What the hell are you doing?" And a couple of times I did. It's amazing how people can want something really badly, and the only obstacle is themselves. And they just can't see it. You'll see that play out in the finale.
There weren't any All-Star designers showing at NYFW back in September. How did the finale work?
They filmed final collections. It wasn't presented at Lincoln Center; it was the timing. But they each have a finale show, and one of them in particular I felt got in their own way. I enjoyed mentoring because you're building relationships with the contestants. When you're a judge [as Coles has been in the past] it's hard because you don't know the story and the narrative of what's led up to the piece that you're judging. So what was really interesting was being behind the scenes, seeing the drama, understanding how hard some of them work, and how sloppy some of them work — even as All-Stars.
The cast seems quite eclectic — were you happy with the selection of designers?
It was a very interesting mix. They're all very different, but they're all extreme in their own way. And there were more designers wanting to come back again than Lifetime chose to cast in the final lineup. There are several of them who are just hyper-talented, and they will go on and do great things. And then there were some other ones who are utterly serviceable, but who aren't rock stars. And some of them got further than I expected, and others … let's say here were a couple of eliminations where I wanted to run up to Georgina and Isaac and say "Listen, by the way, X Y & Z happened backstage." At one point, the producers even just about had to hold me back. But for the most part you just have to accept it and get on. I mean, I felt very happy with the finalists.
Are you conscious of representing Marie Claire's brand through the reality television medium?
Yes, I think reality television helps us keep the brand of Marie Claire very relevant. And it's enormous fun to do, I mean, it's fun to be part of. When I got here, I was looking for ways to make Marie Claire more visible, and television is a really important part of that. In all ways, it helps.
When the Project Runway partnership option came up — when the previous association [with Elle magazine] ended, I was very determined to get it for Marie Claire because I could see that it would be really beneficial for the magazine. There are a lot of brands jostling for the readers' attention, and there's a lot of stuff jostling for the readers' time. And I wanted to be a part of that. I think Project Runway helps, Running in Heels helped – I mean, Running in Heels was shown in sixteen countries. I was in Marrakesh and someone came up to me and said "Oh my goodness, I've just seen your show." And I was like, "Good lord. How amazing."
People come up to you in the weirdest places and want to talk to you about Marie Claire. Alber Elbaz — the first time I met him he said, "Right, sit down. I need to know all about Running in Heels." He said, "It's my guilty pleasure. I absolutely loved it. What were the girls like? Tell me everything." So for the first hour I just downloaded, and his eyes were big saucers – he just loved it.
It's not always as easy to define the Marie Claire reader — you've gone from Kim Kardashian on the cover one month to Angelina Jolie the next. They seem so different.
Well, they're both in the readers' world. There's no reason why you can't be fascinated by the Kardashians and the fact that Kim Kardashian has made so much money, and simultaneously be mesmerized by the fact that Angelina Jolie is not only married to the world's hottest guy, but she has six kids and she's damn well written and directed a movie in Bosnia. And in Bosnian!  
Would you run a Kate Middleton cover?
I think it would be perverse of me to say no, because it would be an event cover. But I don't think our reader is actually that interested in her. We actually didn't do anything on the royal wedding. You can get that stuff elsewhere. Were we able to do an exclusive cover with her, yes, of course we'd do it. And then it'd become an event.
Do you think that American readers are more conservative in their tastes?
I think that actually American readers are more ambitious than, say, British readers in terms of what they want and expect from a magazine. I think they have a greater sense of what they could achieve. They want very practical advice about how to get dressed, how to find expensive-looking wardrobes for less, how to get ahead in the workplace. They want to read a magazine and then be able to put it down and act out from it. Maybe "act out" isn't quite the right expression; I think they want to be able to lead, and I think they just want very practical advice that they can act on. British magazines can afford to be slightly more whimsical.
How would you describe Marie Claire readers' fashion perspective?
Well, she's very interested in fashion, but I don't think she's a fashion obsessive. I think there are certain fashion magazines which are like hobby magazines, like railway enthusiast magazines: They're obsessive, they date things back to a certain time, they're constantly referring and making references to other moments in fashion. The Marie Claire reader is more likely a young urban professional who wants to look as good as she possibly can for the amount of money she earns — possibly a little extra because of the thousand or so she carries on her credit card — and she wants really good value for money. But fashion is an element in her life, not the dominant force of her life.
Does that affect the way you cover trends?
What we try and do is say, "Listen. If you have X amount of dollars and you really want to buy some fabulous things, these are the pieces we think will last beyond one season. If you want to buy a cocoon coat, or you want to go big on a huge striped T-shirt, you might want to look at the cheaper version of it." So we have beautiful fashion well stories that are aspirational and give the opportunity to dream and inspire, but then they're followed up with ways to shop trends out for less if you don't have five grand to drop all the time. I try to be very respectful of the reader going through the pages and thinking, "Why is everything so expensive?"
Nina Garcia has a good line — "If you go into a store on Madison Avenue and there's nothing in there you can afford, you will never go back into the store. If there's one thing in the store you can afford, even if it's a belt and it's $250, there's a point of entry, and you will go back." And I think Marie Claire should always have something the reader can afford.
Are you finding the magazine increasingly influenced by the street style oeuvre? Is it a sense of style that's of interest to you?
I feel like I've always been interested in it. Thirty years ago I lived in Paris — I'd moved there from England and I couldn't believe the difference in the way that people dressed. There's nothing I like more than to sit in a café watching people walk up and down. And you can be in the Village, you can be in Seattle, you can be in Houston, you can be in, you know, Miami Beach – I've always found it interesting, and I think Bill Cunningham is the perfect example of someone who does it beautifully. All that's happened is that technology caught up with our ability to take pictures of chic people and put them on the web for everybody else to look at very quickly. So I don't think it's new. I think the ways of delivering it and letting other people in have changed.
I had a very interesting chat with Ken Downing [fashion director at Neiman Marcus] recently, actually. He feels that so many people during Fashion Week are now only dressing up to be caught for street style, and that it's made many of them into cartoon figures. You see these girls desperate to have their photo taken, whatever it takes — a plastic harness, golden handcuffs, they'll do because they're so anxious to be validated in a street style photograph. I think that's a little tragic; and it all becomes self-referential and slightly pointless.
And I wonder about some of the people taking the photos, I'm not quite sure what they do with them all. I'm sort of waiting for the Law & Order episode… the police knock down the door and you discover all these strange pictures on the wall and there's some sort of weird stuff going on.
How would you describe your personal style?
Well I don't think about it in any particular conscious way. My style is "get out the door in the morning." I feel like what I share with the reader is a tremendous lack of time. I have absolutely no time to worry about how I get dressed, so I buy with an eye conscious of what is not complicated to put together. I am not like some people I know who can spend an hour getting dressed in the morning, you know? I just don't have the time to do that.
Also, you know, because I grew up in England,  I wore a school uniform, I spent basically the first fifteen years of my life in uniform. It was a navy blue pinafore, with sometimes a white blouse, sometimes a floral blouse underneath. I suddenly realized recently, Jesus, I've spent my entire adult life recreating that. I found a blue sheath dress – I have dozens of blue sheath dresses — my pinafore. I'm sure that's why British fashion is as inventive as it is, because it's a reaction to school uniforms.
Were you forced to change your wardrobe choices for Project Runway?
The thing about not having much notice for the show was that I suddenly had to pull a capsule wardrobe together. They said, "You're going need fourteen different outfits." This was on a Friday, and we started shooting on the Sunday. I sort of squeaked, "What?" And I went straight to Net-A-Porter. I ordered literally boxes and boxes, and it was all brilliant, absolutely brilliant.
Filming the show forced me to sit down, figure out what was going to work, and organize it in advance over a weekend of intense wardrobe planning. I ended up buying almost everything that I wore on the show; for the first time in my life I had a planned fall wardrobe. I think I actually spent less money sitting down and doing it properly than I did by emotional shopping, which is what I normally do as I'm wanting to celebrate something, or I'm wanting to buy something with a friend because we're having a fun afternoon and we're enabling each other to buy yet another Celine coat that I really don't need but why not because it's girl bonding time? It was actually a really good experience, and I ended up buying a ton of stuff that I wouldn't necessarily have bought, and I'm really glad I did.
My first day I turned up in a maroon dress thinking, "Well, I'll add a splash of color." And the heavenly Angela Lindvall was in this gorgeous bright red design — I felt like a faded bloom off to the side; I thought, "This is not a winning scenario." I had a bright, bright yellow Victoria Beckham dress which is spectacular, and I never would have in my life bought a bright yellow dress. I put it on and I felt like I was in an egg yolk, but it really works on television. And we used it for the ad campaign, I put it with purple shoes — perhaps not something I would do in normal life.
Were there any other designers you ended up wearing a lot?
I bought a couple of nice things from the Australian designer Willow; I bought a couple of pants from Preen. I bought more color than I would normally. I'm a great neutrals person, I love beiges and creams. I haven't met a shade of taupe I don't want to put on. And I realized I had to have a lot of color for television, and so it forced me into some bright yellow Joseph pants which I can't believe I bought, and then the minute I got them on I couldn't take them off. I almost slept in them. 
The only thing I found really intimidating about the show was knowing that the designers were analyzing my clothes. Suddenly I was in a room with thirteen people who were checking my closet out and really looking at it. Whereas Tim always wore the same thing, my clothes became a sort of point of engagement. A lot of the designers would comment on my outfits — Jerrell always wanted to discuss what I was wearing; Anthony would always have something to say; Mila was always very interested. I wore some leather Alexander McQueen pants once and Mondo immediately took to them. I could see him watching them all around the room.
And of course now I'll be buying pieces the All Stars will be designing too — there are three or four of them I'm sure I'll commission clothes from, as soon as the show's aired and I'm allowed.