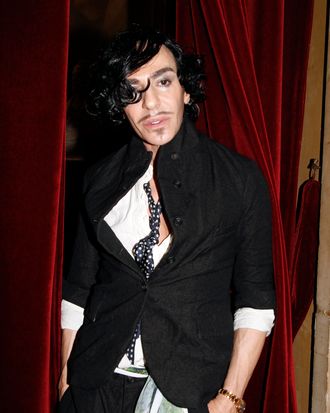 John Galliano
Photo: Eric Ryan/2010 Eric Ryan
With the fashion weeks almost here again, it's time to return to that nearly year-old question of just what Dior plans to do with itself. John Galliano was fired from the label on March 1 of last year, coupled with a stinging admonishment from Natalie "Best Actress" Portman, following his painfully publicized anti-Semitic outbursts. The collections Galliano's right-hand man Bill Gaytten have been overseeing have drawn reactions as varied as shrugs and derision, and yet financial figures at Dior are fabulous. The brand announced a few months ago that sales for the first three quarters were up 27 percent from the same period a year ago.
So do they even need a replacement for Galliano? Fashion people seem to agree that yes, they do.
While Chanel suits continued to sell well after Coco Chanel's death in 1971, "in creative terms the house was at a standstill until the arrival of Karl Lagerfeld 12 years later," proclaims the AFP.
"You can manage without a designer for a season or two," argued Serge Carreira, a luxury sector expert and teacher at Sciences Po university in Paris. "But there is a limit, a brand must be regularly refreshed, renewed."
Experts say certain strengths of the Dior brand were in place well before Galliano left, such as great marketing campaigns for the Lady Dior handbag and J'Adore perfume, which sell quite well, thanks in part to the very varied assets of its stable of actress-models:
Charlize Theron offers a "glamorous ultra-femininity", Natalie Portman a "more consensual femininity", Marion Cotillard brings "classy, French sophistication" and the American Mila Kunis a touch of youth.
But of course these women cannot shoulder the burden of making sure we talk about and buy Dior things forever. Because eventually someone with a Big Important Vision will need to help pick new actresses to replace them, and disrupt the Dior-buying public's comfort with the status quo, which critics and the industry, a quickly bored set, certainly don't want to tolerate for much longer. Raf Simons, the most recent front-runner, says he has "nothing to say" about the rumors he's currently closer to taking over the house than any other designer (a position Marc Jacobs was also in — so, you know, grain of salt). But if Chanel lasted so long without a head designer, why can't Dior do the same? Why rush into a decision if sales are strong and no heir feels apparent? If they managed to muddle through just fine this past year, why rush a decision to replace the person who, to many, is irreplaceable?

Speaking of Galliano, he's disappeared to a place where even the paparazzi can't find him. But let's face it, that could easily just be a Vogue photo studio where he's preparing a fabulous portrait to go with a tell-all.