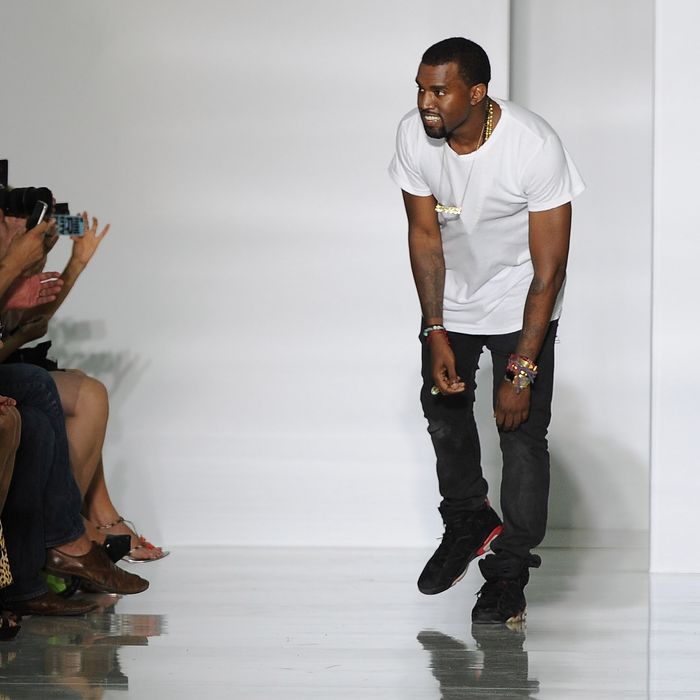 Kanye, giving his thumbs a much-needed rest.
Photo: Pascal Le Segretain/2011 Getty Images
Last night, Kanye West clarified a number of things about his new fashion line — plus a whole lot more — via Twitter. Namely, he says that the @dwbykanye Twitter handle is fake, and Dw is not the actual name of his label — it was merely a "design element placed on the invite in homage to my mom," Donda West. He then proceeded to tweet until about 6 a.m. in London (his present location) about his previous forays into fashion design, as well as the troubles his fledgling line currently faces — well, besides the obvious ones.
First of all, he has no agency representation (he "fired" talent agency William Morris after Cara Lewis decamped to CAA), and he has no financial backers ("I did the first fashion show out of my own pocket"). He's also been "begging" Japanese clothing label Bape to produce his line, to no avail.
But in addition to spilling about his woes, Kanye also tweeted (some might say boasted) extensively about his fashion qualifications. He says he was offered jobs at Fendi and Versace, which he had to turn down because he was under contract with Louis Vuitton at the time. But he couldn't have been all that concerned about said contract, because he worked for Fendi anyway ("under cover … for four months") and then "snuck" into the Giuseppe Zanotti factory where he learned how to design women's shoes "for two years." And lest we're not impressed enough, he reminds us that he's also made a sneaker for Nike.
What's more, he opened a design studio in Paris in 2011, but ran into some difficulties: namely, that he didn't speak French, and that he didn't have a VAT number and therefore couldn't buy any fabrics (oh, details!). But Azzedine Alaïa came by the studio one day, which obviously made everything worth it.
Finally (and these are the 6 a.m. tweets) Kanye announced that he's starting a new design company called DONDA (after his mother), which "will galvanize amazing thinkers and put them in a creative space to bounce there dreams and ideas" [sic]. According to his tweets (all sic):
I am assembling a team of architects, graphic designers, directors musicians, producers, AnRs, writers, publicist, social media experts…

doctors, scientist,teachers…

app guys, managers, car designers, clothing designers, DJs, video game designers, publishers, tech guys, lawyers, bankers, nutritionist 

I want to put creatives in a room together with like minds that are all waaaay doper than me

DONDA will be comprised of over 22 divisions with a goal to make products and experiences that people want and can afford…

We want to help simplify and aesthetically improve everything we see hear, touch, taste and feel.
Hey, Hallmark Channel! It sounds like you've got a replacement for Martha Stewart!