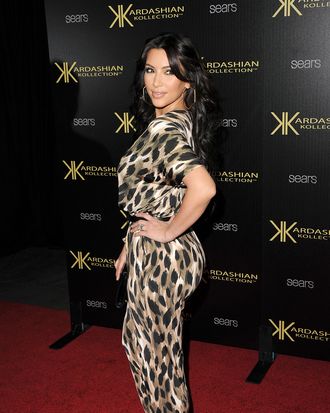 Kim Kardashian, on the retreat.
Photo: Jason Merritt/2011 Getty Images
ShoeDazzle, the shoe-of-the-month retail site that Kim Kardashian co-founded in 2009, expanded to the U.K. in September. The site sends monthly shoe offerings to its members tailored to the results of the "personal style quiz" they take when they join; British members pay a subscription fee of £39.95 (around $62) per month to get a shoe from the site's recommendations (they can also opt to "skip a month" and store up shoe-buying credits for future use).  However, just four months after opening overseas, ShoeDazzle announced that it is ceasing operations in the U.K. to focus on its core U.S. market, according to Drapers. All ShoeDazzle U.K. members have reportedly gotten an e-mail saying their memberships will end after January 31, and refunds will be issued to cover any remaining credits. Leftover stock has also been discounted 50 percent, so British members can also use their credits to snap those up in the meantime, should they choose. Could this be yet another sign of the Kardashians' long-overdue decline, or just a sign that Brits aren't into buying a new pair of platforms every month?