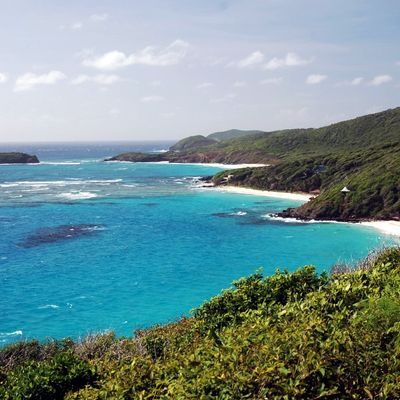 Mustique. Shrugs.
Photo: Wikipedia
Kate Middleton has flitted away from the U.K. for a holiday in Mustique, the private Caribbean island known to be one of her favorite vacation spots. She'll reportedly be joined by Prince William at the fancy villa she's staying at with her family, which is owned by their friend, hedge-fund manager Marc Cecil. Apparently the heightened security implemented upon Kate's arrival has thoroughly inconvenienced the other wealthy people vacationing there. To protect her privacy and prevent photos of Kate from getting out to the media, Mustique guests reportedly cannot use rented "mules," a "fleet of souped-up golf carts," which the rich use to get to and fro on the island; they must also take only designated vehicles to the restaurants at the two hotels on island if they wish to eat there. Some guests also say security guards are interrogating them (about what, exactly, is unclear) on the beach.
All these restrictions are, naturally, completely unfair.
One local millionaire, who asked not to be named, said: 'This isn't exactly the way one expects to be treated when you pay very good money to visit the most exclusive island in the Caribbean.'

So sounds like Kate's turned that place into a real dump.