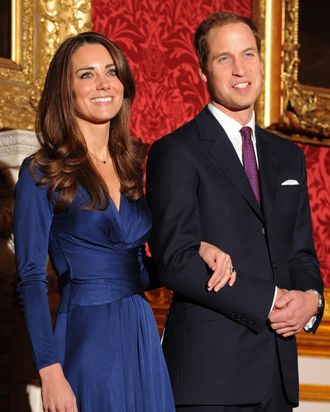 Kate, the birthday girl.
Photo: Ben Stansall/AFP/Getty Images
Kate Middleton turns 30 on January 9, which means that everyone's postulating about her birthday party, the guest list, and most importantly, what she'll wear. Grazia says that Pippa and Prince Harry have teamed up (because they're dating, obviously) to plan a splashy eighties-themed event, complete with karaoke, sometime this weekend.  Charlie Gilkes and Duncan Sterling, the co-owners of popular London clubs Maggie's Bar and Bunga Bunga, are also said to be involved.
The Daily Mail gushes that David and Victoria Beckham will surely be in attendance, no matter when and where the party turns out to be, and an even sketchier source says that Victoria sent Kate a bunch of custom-made dresses in hopes she'll wear one. In other, more factual news, Kate and William will attend the London premiere of War Horse on her actual birthday (Monday), and then go to a charity dinner afterwards.