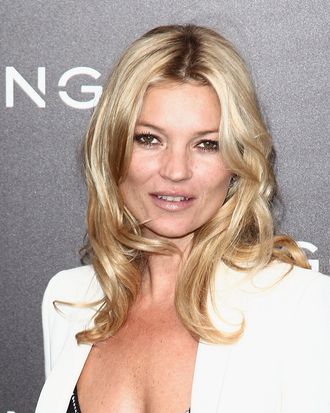 Kate Moss.
Photo: Julien M. Hekimian/Getty Images
Kate Moss gave an unusually long interview to the London Times this week, in which she disclosed valuable information, like her favorite weekend pastime: 
Go to the pub and watch crap telly. That's what we do on a Saturday. Any trash TV. I love trash.
All together now: She is just like us! She says some more banal celebrity things, like how she wishes she could go shopping without getting stared at, and that she doesn't like Twitter: "I don't get it at all. I try to be the opposite, so people don't know anything that I'm doing." She also denied rumors that she's working on an autobiography. "Not until I'm like 105 … Because you can't get a good book unless you're going to spill the beans, and I can't spill the beans … not for a long time." Spilled beans this is not.