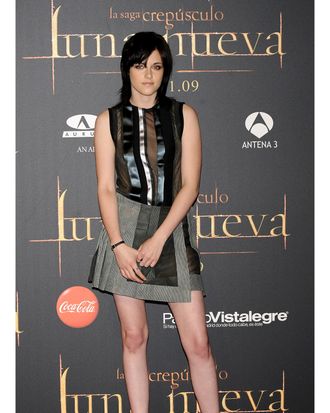 Kristen Stewart in Balenciaga.
Photo: Carlos Alvarez/Getty Images
Twenty-one-year-old Kristen Stewart will be the spokesperson for a yet-unnamed Balenciaga perfume, the brand announced today. It's Stewart's first fashion campaign, and although she's surely been courted by many a label (for all we know, Candie's went after her, too), she evidently held out for a high-fashion brand. Nicolas Ghesquière first met Stewart on the set of a Bruce Weber shoot back in 2006, and Stewart's since worn his designs on various red carpets. The  perfume will come out later this year; in the meantime, Charlotte Gainsbourg remains the face of Balenciaga Paris, the label's debut scent, which came out in 2010.