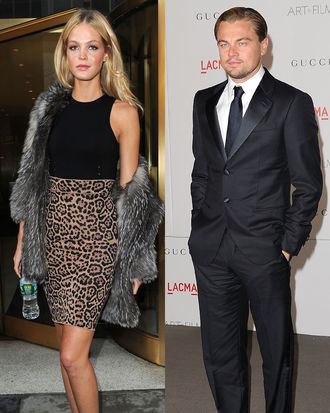 Erin Heatherton and Leonardo DiCaprio.
Photo: Splash News, Jason Merritt/Getty Images
Isn't it nice to know that while you're in New York, looking out the window at the rain that wants so badly to be snow, with no sun in sight and only four hours of gray daylight left, celebrities and their hot significant others are enjoying tropical vacations in shorts and sleeveless dresses? Why, yes! It is so nice to know these things about rich, attractive people! Which is why today we are so happy for Leonardo DiCaprio and Erin Heatherton, who are apparently dating and were photographed carrying their own bags in Mexico on Wednesday. The "15+" shots of them on Just Jared look so real, despite how unreal they seem as people: Erin with her hair not done, Leo wearing dorky white socks with the bad khaki cargo shorts everyone made their boyfriends or husbands throw away at the last closet cleanout, them not touching or talking as though they had a travel fight on the way there. It's a heartwarming Friday idea for us all.