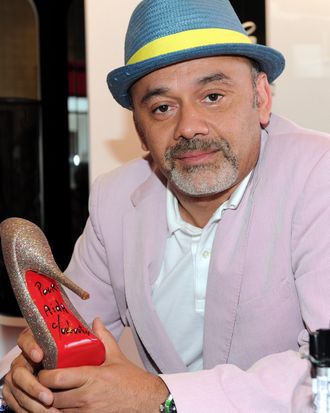 Louboutin shoes.
Photo: Alberto E. Rodriguez/2010 Getty Images
What is already one of the most drawn-out court cases in high fashion history was protracted further still yesterday when Christian Louboutin appeared in court to appeal Judge Victor Marrero's ruling against his red sole trademark, which occurred last August. He was accompanied in the courtroom by Diane Von Furstenberg, who's a close personal friend of his but also, as president of the CFDA, a major advocate for stronger laws against copyright infringement. 
Yesterday's hearing was presided over by three judges, who have yet to decide if Judge Marrero's verdict stands or if it will be reversed. If it is reversed, the lawyers for Yves Saint Laurent and Louboutin would have to return to court to argue their cases all over again. According to WWD's report, it seems the judges were quite skeptical of Marrero's ruling, which is good news for Louboutin. Said Judge Chester Straub of Marrero's verdict:
There are some far-reaching principles in this opinion … What findings did he make to base this? I can't find it. Show me where he recites in detail the basis for his holdings.
Between this case and various congressional hearings this past summer regarding the Innovative Design Protection and Piracy Prevention Act, the legal aspects of fashion branding have been examined much more closely this past year. A recent opinion piece in the Times by Harvard law professor Jeannie Suk stated that the Louboutin case highlights a need for more defined laws in fashion branding.
The quirky lawsuit dramatizes the law's ambivalence toward fashion. The law does not protect fashion design, but it does recognize the rights inherent in branding. Louboutin's claim spotlights the pressure on fashion designers to frame their aesthetic choices as brand identifiers, and the legal contortions that result.
In other words, the result of Louboutin's appeal will send a much broader message to the fashion community about the future of design and branding copyrights.
Related: Read a step-by-step guide to the case in the Fall Fashion Issue. [NYM]