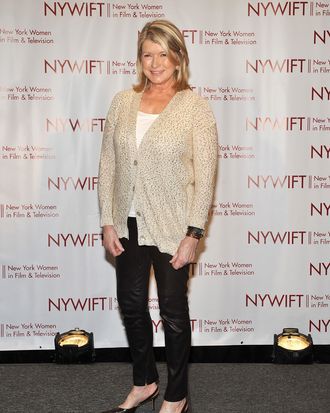 Martha Stewart.
Photo: Fernando Leon/Getty Images
You may recall that JC Penney bought a large stake in Martha Stewart Living last month (16.6 percent, to be exact) and announced plans to open mini Martha Stewart shop-in-shops in their stores. However, there aren't quite enough branded pillows to go around: Macy's says this deal violates their current contract with Martha Stewart, which gives them exclusive rights to sell Martha Stewart Living products, so they've filed for a preliminary injunction to block the Penney deal. (For what it's worth, MLSO's president Lisa Gersh said in December that their forthcoming Martha Stewart products will be "completely different" from those at Macy's.)
The lawsuit coincides with Macy's announcement that they've renewed their contract with Martha Stewart to continue through 2018; Penney's shop-in-shops are scheduled to bow in 2013. Although Martha Stewart Living won't comment on the lawsuit, they've issued a statement saying that, as of right now, their contracts with both companies remain in effect.