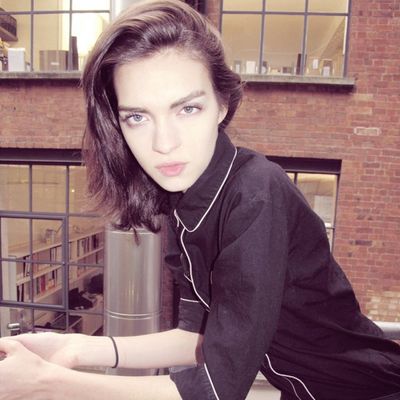 Magda Laguinge was a nobody until she opened Marc Jacobs's spring 2012 show in New York as an exclusive to the label — one of the most desirable bookings an established or unknown face can get. The soft-spoken, 19-year-old Argentinean then skipped London Fashion Week to shoot a spread for Wonderland magazine, but reemerged in Milan to walk for Roberto Cavalli and Marni. In Paris, her resume got much more impressive when she modeled in the Chanel, Miu Miu, Balenciaga, and Louis Vuitton shows. Campaign bookings followed: Currently, Languine's a face of Topshop for spring (alongside Marihenny Rivera and Lara Mullen). We met her recently to talk about working with Marc Jacobs, her intense workout routine, and more.

Tell me a bit about your childhood.
Well, I was born in Córdoba, Argentina, and I have [six] brothers and sisters — two younger sisters and four brothers. It's funny, since I've become a model my sisters now ask me what clothes they should wear and all about makeup. [My childhood] was great because we would all play together. With the people I'm close with, I'm talkative, but generally I'm a quiet person. I like to be observant.
How did you get discovered?
When I was 13-years-old, a booker from my mother agency in Argentina stopped me as I was walking to the beach. He gave me his card, but then I lost it. Strangely enough, when I was 17, they found me again and I started to work locally for about two months, and then I got set up with Next.
How interested in modeling were you?
When I was young, I was really, really thin and really tall, so everyone would tell me, "You have to be a model!" But I didn't want to model. While most young girls dream of becoming an actress, singer, or model, I actually wanted to work at a bank. [Laughs.] It seemed like a nice idea at the time.
What was it like to open the Marc Jacobs show?
My agency called me and told me I was booked to do the looks for the show, so for two and a half days I worked alongside an amazing team; some days, I didn't leave the studio until three in the morning. I was told I was opening an hour before the show started, so it was emotional for me. I knew in that moment my career would change, you know? I was afraid and happy at the same time.
What do you remember most about working with Marc?
He's so, so sweet. A real nice, good person, which is very important. Everyone on his team is happy and I think when you work you have to stay happy because then you can see that happiness in the work, too.
After that show, I'm sure things changed for you.
Yeah, I did a lot of castings in Milan and Paris and many people would say, "Oh you're the girl who opened Marc Jacobs!" For this, I really appreciate Marc.
Make any new friends?
Yeah, by the end of Fashion Week, I'd see a lot the same girls, like Fei Fei [Sun] and Aymeline [Valade]. Louis Vuitton's show was very special to me because of the carousel theme with all the models inside. It was perfect.
Craziest thing you saw backstage?
The backstage photographers. Maybe you just want to sit down, be quiet, and read a book, but they don't think about that. All the time they were like, "Magda, we want your picture." This was really surprising.
What are you reading right now?
I love to read. Currently, I'm on Los Mitos Setentistas by Agustin Laje Arrigoni. It's about Argentina during the 1700s.
Do you work out?
Yes, of course. I think in this industry you have to be really, really healthy. I work out everyday; I do cardio for an hour and do lots of abs work. Sometimes I lift weights for my shoulders.
What about your diet?
Normally, I eat a healthy, pretty normal diet. No fried foods, not a lot of bread, and no cookies. I treat myself to chocolate, but only on the weekends. Once or twice a week, I'll eat one thing I really love. For example, yesterday I went out with one of my agents and we had sushi – it's my favorite food – with lots of desserts afterwards. I always try and carry something sweet in my bag.
What is something you don't like about yourself?
I get distracted pretty easily. It's terrible. I always lose things, too.
What is one thing you have in Argentina that you can't find in New York, Milan, or Paris?
Real dulce-de-leche yerba mate. The tea is stronger back home.  
If not modeling, what would you be doing?
I'd be in university studying economics. Before I started traveling for modeling last January, I was studying mathematics for the exam to enter university. My agency called me one day and asked, "Do you want to travel in fifteen days?" I said, "Yes, of course," so I left everything and started traveling, and I haven't stopped since.
Model Profile: Magda Laguinge
Explore other rising stars (plus all the big names) in our extensive Model Manual, featuring runway pics, glamorous editorials, model bios, career timelines, and more.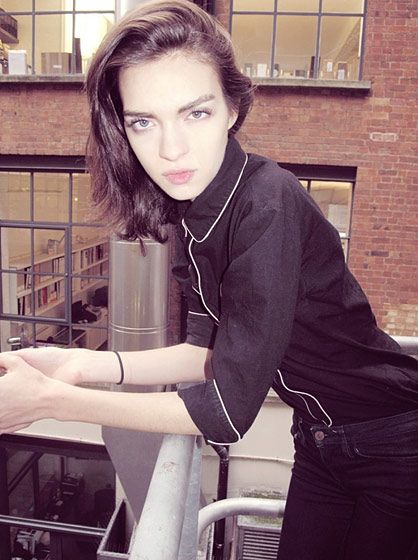 Head shot, 2011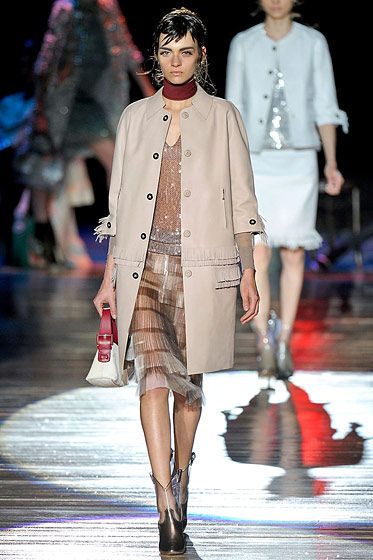 Opening the spring 2012 Marc Jacobs show in New York.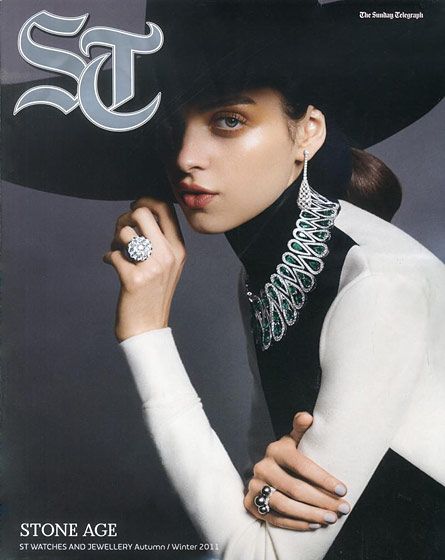 On the cover of Sunday Telegraph, fall/winter 2011. Photographed by Rafael Stahelin.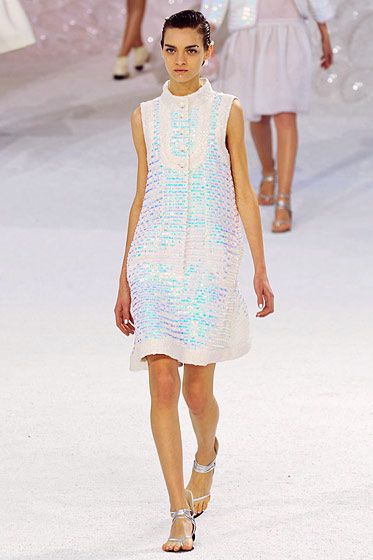 Walking the spring 2012 Chanel show in Paris.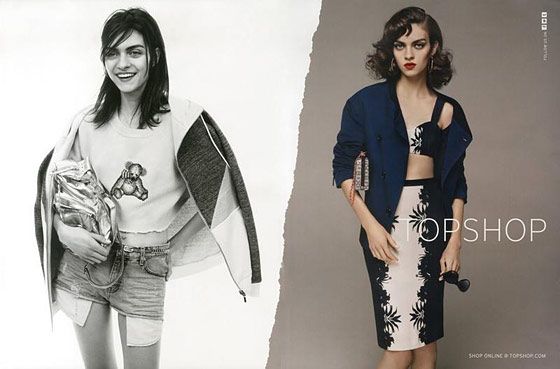 The face of Topshop, spring 2012. Photographed by Josh Olins.