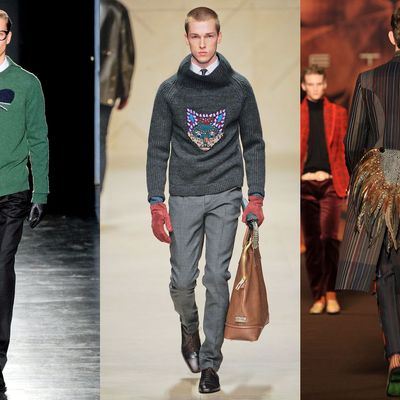 New men's looks from Jil Sander, Burberry, and Etro.
Photo: Imaxtree(2), Stefania D'Alessandro/Getty Images
After Miu Miu famously put cats on the spring 2010 collection, animals (but mostly cats) kind of became a big deal.  Though it sadly went largely unnoticed as a trend, animals became an "It" thing during the spring 2011 season when Louis Vuitton put zebras and other animals on its clothes, Miu Miu had a snake and a swan, and Giles Deacon showed a rabbit tee, among other examples. Since that season, womenswear has happily exploded with cats (Givenchy, Victoria Beckham) and birds (Altuzarra, Carolina Herrera). At the men's shows that just wrapped in Milan, animals also flourished, reports Eric Wilson for the Times. Raf Simons put whales and dinosaurs on his collection; Etro had a scarf with an eagle on it worn on the shoulders of one model, like a cape (and when there wasn't a picture of an animal, there were animalistic elements to the clothes, like tails, as you see above); and Christopher Bailey showed umbrellas that had what looked like duck heads as handles and pictures of foxes on his tops. He didn't try to get too analytical about his motives, though:
"I just bought a dog, so maybe I'm obsessed with animals right now," Mr. Bailey said.
But at Sander, Wilson found more "meaning" than in any of the other animal-tinged shows:
Among a number of throwbacks that appeared in an otherwise sinister-looking collection (with long black leather overcoats and a black rubber runway), the simple drawings of whales or dinosaurs looked like illustrations from a children's book, and that was perhaps because Raf Simons, the designer, was expressing some deep thoughts about the inner psyche of men. He seemed a little preoccupied with the notion of the man who remains a child, and that is probably true of other designers who explored that idea this week.
Wilson traces the animal trend back to Givenchy's snarling dog tees (which sold out), suggesting that Riccardo Tisci will capitalize on the vicious animal-as-serious-fashion-object concept in his new Givenchy men's show that walks in Paris soon, with sharks instead of Rottweilers. And truly, the popularity of the animal tee extends to the streets, where people mostly don't wear Givenchy Rottweiler things but ironic nature scene/animal tees have been going strong for years. Everyone has that hipster friend in Williamsburg these days that's somehow managed to turn wolf tees into something you don't even notice anymore.